Summit County | Marijuana Travel Guide | Winter
Summit County stretches along the I-70 corridor as you head west through the mountains. It includes five world-class ski resorts within miles of each other, including Breckenridge, Keystone, Arapahoe Basin, Copper Mountain and Loveland. From shopping the outlets in Silverthorne to checking out the expansive Dillon Reservoir to eating and drinking at some of the award-winning craft breweries and restaurants in town, there's no debate – you'll find that there are endless opportunities in Summit County for your winter (or summer) adventures.
Note that traffic along I-70 toward this part of the Rockies can be rough. Weekend-warriors should leave the city before 7am and get back on the road before 4pm (or simply until after dinnertime) to avoid some serious stop and go.
Where to Ski or Snowboard
Where to Buy Marijuana
Breckenridge
Although Breckenridge has always been in the forefront regarding support for overall marijuana laws (both recreational and medical), all four shops have been pushed slightly north of the resort/downtown on Airport Road.
Summit County locals, who also happen to own the only grow operation left in Breckenridge, started Alpenglow Botanicals. Their comfortable shop offers more than 30 strains that are grown in smaller batches, ensuring that their customers get premium cannabis each and every time.

Breckenridge Organic Therapy is another locally owned dispensary that prides itself on quality bud and great customer service. Although on the smaller size, this shop is known in town for providing great prices for many pain management solutions.

Organix (Breckenridge, CO)

Organix is the only Breckenridge location to provide both recreational and medical marijuana to its customers. The shop is very open with beautiful wood floors, which paves the way for a continued positive experience with high-end bud and helpful budtenders. Check out one of their 20 available shelf strains.
Keystone, Arapahoe Basin, Copper Mountain & Loveland Ski Resort
There are no dispensaries in close proximity to these resorts, however a quick drive to Silverthorne/Dillon or Frisco (toward Breckenridge) will let you choose between five great options.
With 3 other mountain locations, this recreational and medical dispensary knows what they're doing. Often praised for their passionate and kind staff, you'll find over 50 quality strains and store hours that consistently stay open from 9am – 10pm.

This is Alpenglow's second location in Summit County. As with their other location, this team prides themselves on a one of a kind "Farm to Flame" experience, meaning everything is locally grown at 9,600 feet above sea level and is exclusive to their two shops.

Formerly the site of Herbal Bliss, Tumbleweed has opened their latest shop in the heart of Frisco. Conveniently located off I-70, Tumbleweed is a great stop before adventuring off into the mountains. 
Where to Find Après Ski
Breckenridge
(American, Price $10-$25) – Located at the base of Peak 8, this spot offers great drinks, small plates and an awesome patio.
(Brewery, Price $10-$20) – Try one of their popular brews like Agave Wheat, Lucky U IPA or Avalanche.
(Mexican, Price $10-$20) – Well-known spot for their beer/margarita happy hours with over 100 tequilas to choose from.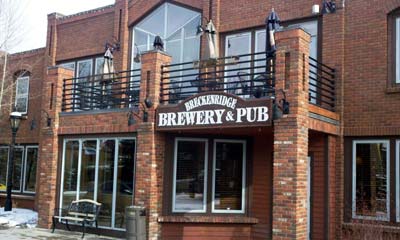 Breckenridge Brewery
Keystone
(American, Price $10-$25) – Located at the bottom of the gondola, offering a great beer selection, food and atmosphere.
(American, Price $5-$15) – Located in River Run Village, try one of their handcrafted cocktails or on-tap brews.
Arapahoe Basin
Grab a drink at their base lodge or head to Silverthorne/Dillon for a larger selection of food and beverage options.
Copper
(American, $5-$20) – Live music and great beer, all located in the East Village.
Loveland
Similar to Arapahoe Basin and Keystone, check out their on-mountain restaurant options or head toward Silverthorne/Dillon for a wider selection.
Where to Eat
Breckenridge
(American, Price: $10-$25) – The best burgers and milkshakes in town. Don't forget to try their special sauces.
(American/Pub, Price $10-$30) – Go for the selection of American classics, stay for the creative cocktails.
Keystone/Arapahoe Basin
This mountain is somewhat removed from any town, so pack a lunch or eat at one of their on-mountain restaurants during the day. After skiing, head toward Keystone or Silverthorne for the closest restaurant or bar options, including Blue Moon Bakery, a popular stop to grab a breakfast sandwich or bagel before hitting the slopes.
Loveland
The same goes for Loveland! Because the mountain is not near a town, bring your own lunch, take advantage of their food options on-mountain or head to Beau Jo's (amazing pizza) or Smoking Yards (finger-licking BBQ) in Idaho Springs on the way back to Denver.
Copper
(American, Price: $10-$20) – Fun, sports bar atmosphere with an awesome selection of food like flatbread, burgers and more.
What to Do
Breckenridge
Keystone
Enjoy Keystone's 5-acre lake in Lakeside Village, which is the "largest Zamboni-maintained outdoor skating rink in North America."
Keystone is one of the few resorts that offer night skiing, allowing guests to enjoy the mountain long after normal hours.
For those who want a more relaxing activity, make an appointment for a relaxing body massage or cleansing facial.
Arapahoe Basin
Take the drive through the mountains and above the tree lines to the Continental Pass, approximately 11,990ft above sea level. Although you'll drive along many narrow switchbacks to get to the top, the views are well worth it.
Loveland Ski Resort
Take advantage of some free snow cat skiing along the Continental Divide with 360-degree views. Must be able to ski difficult or expert terrain.
Copper Mountain
Explore the village

Take a few hours and walk around the village, checking out the various restaurants, bars and shops it has to offer! Everything is located close to each other, so getting around is not a problem.
Step up your tubing game at Copper Tubing Hill which features four lanes with curves and jumps, double tubes and free parking.
This action sports facility is a cool opportunity for all ages to hone their ski and snowboard skills in a seriously fun atmosphere. Complete with fly-bed trampolines, jumps into foam pits, skate bowls and more, you'll be a pro in no time (with group or private sessions).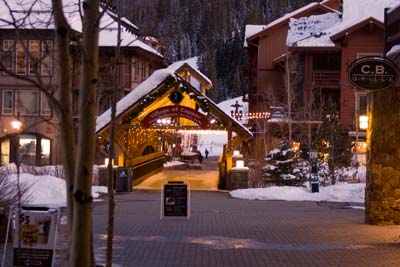 Village at Copper  
(Photo Credit)
---
Other Travel Guides