Steamboat Springs | Marijuana Travel Guide | Winter
Steamboat Springs is celebrated for its world-renowned skiing but what sets it apart from other mountain towns is its authentic cowboy culture. Even with it being the 21st century, Steamboat Springs has still successfully hung on to its cowboy roots. You'll find this theme peppered throughout the resort. From the western cuisine, to the cowboy artwork, to the mountain-themed boutiques, Steamboat Springs is an idyllic winter, western getaway for international and domestic guests. As if that's not enough, being in Colorado, it's also a marijuana-friendly mountain with plenty of recreational pot shops to choose from!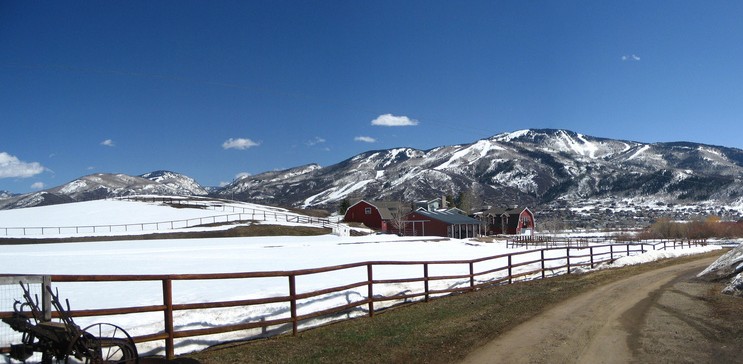 Photo Credit: Ben Ramirez
What to Do
Steamboat Springs is not short on powdery mountaintops and gorgeous landscapes, making it a veritable playground for guests. There are choices aplenty, how you choose to spend your time is up to you.
When you're at Steamboat, there's mountain fun to be had both day and night. So if you've got the energy - and the night vision - join other ski and snowboard enthusiasts for a bit of night skiing. Ride the Christie Peak Express chairlift to the top of Christie Peak (8,000') where your night adventure spans across five trails. Participants of all levels of skiing and riding are welcome.

Enjoy spectacular 360-degree mountain views when you take a ride up Mt. Werner while in Steamboat Springs. Being high up in the air allows for one-of-a-kind aerial and panoramic views that can only be appreciated from this eight-passenger gondola.

There's nothing more relaxing, romantic, and delightful than a long, hot soak in a natural hot springs. And if you're lucky enough to spend the day on the beautiful slopes of Steamboat Mountain, then you've earned a relaxing soak in Strawberry Park Hot Springs. Located just outside of Steamboat Springs and nestled alongside Hot Springs Creek, Strawberry Park Hot Springs is open year-round and always full of guests. Come to relax in 104-degree mineral water and a massage in one of the beautiful private massage huts.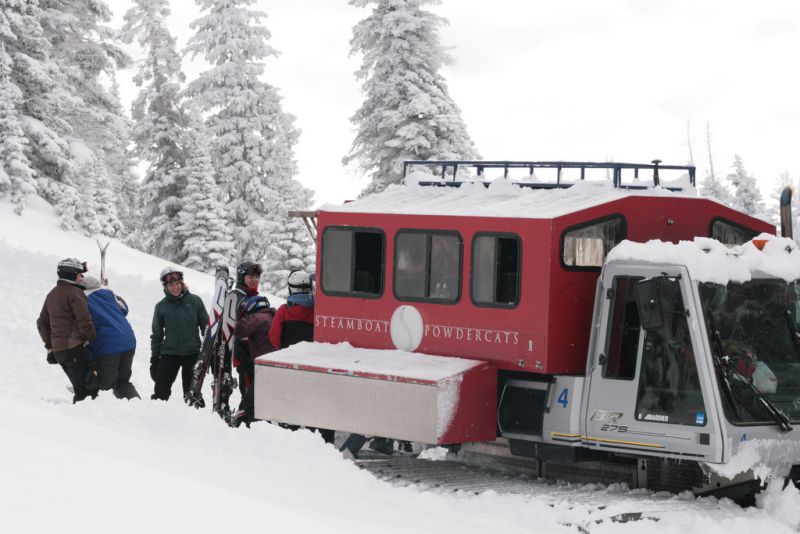 Photo Credit: Bhenak
Where to Buy Marijuana
Steamboat springs has three dual dispensaries (both medical and recreational) to satisfy anyone's wants or needs. Each shop provides exceptional service with quality products across the board. Keep in mind that both residents and tourists are allowed to purchase up to 1oz of cannabis product in a single transaction. Here are the shops to check out:
The folks at Tumbleweed take pride in their Steamboat roots. Each and every staff member calls the Yampa Valley home and aims to bring just a little more magic to everyone's day in beautiful Northwest Colorado. They love to hear from patients and customers and strive each and every day.

Golden Leaf Dispensary prides itself in growing cannabis the way nature intended, all natural. With every plant grown exclusively in soil without the use of pesticides, Golden Leaf provides both recreational and medical patients with a wide array of clean, chemical-free marijuana products. Be sure to check them out to experience the benefits of compassionately cared for cannabis.

Formerly Natural Choice, Billo is located slightly north of Steamboat Springs. Their main focus is on quality, organic products (both grown in-house as well as from other companies) and top-notch customer service to meet every visitor's expectations.
Where to Stay
Finding a place to stay in Steamboat isn't hard, as there are a plethora of options to fit any budget. Although there aren't very many explicitly 420-friendly options to choose from, fear not! This simply means that you'll have to be discreet when consuming (think edibles and vaporizer pens) or lighting up away from public places.
Where to Shop/Arts
There's so much to do in downtown Steamboat Springs. From farmer's markets, to mountain boutique shopping, to festive holiday events – there's definitely no shortage of action.
Once you tire of the mountaintops, head over to Main Street for some fun and relaxing boutique shopping. Here you'll find authentic western styles, old-mountain town gifts and souvenirs, and quality outdoor gear. Here you can enjoy the sights, sales, and styles of Steamboat Springs.

When you vacation at a mountain resort like Steamboat Springs, it's important to take in the authentic mountain culture. Do so while enjoying a bit of eye candy by visiting the Wild Horse Gallery. Located in downtown Steamboat Springs, this art gallery offers fine contemporary realism created by local, regional, and nationally known artists. Find original oil paintings, drawings, etchings, sculptures, and more – all with a notably authentic mountain theme.

Photo Credit: Steamboat Chamber of Commerce
Where to Eat
After a long, hard day of sun and ski, you deserve to eat like royalty. Go ahead and indulge in delicious cuisine found only at Steamboat Springs. From fancy mountaintop dinners to casual cafes, there's something to satisfy every taste bud and budget.
Nightlife
Unwind with a stiff one and relax the achy muscles away when you imbibe in a good time at Steamboat. There are plenty of watering holes to choose from depending on what you're looking for. So, what are you looking for?
Come to Café Diva for the expansive wine list and casual ambiance. It's particularly relaxing on a beautiful mountain evening where you can sit on the patio and enjoy majestic views. Be sure to pair the wines with the delicious food offerings if you're feeling a bit nibbly.

Located in the heart of Gondola Square, the Umbrella Bar is a convenient and ideal place to relax after a long day on the slopes. Features outdoor seating and a terrace for easy access to spectacular mountain views, and a well-rounded menu full of happy hour specials, appetizers, and drinks.

Come on over to the Double Diamonds Bar to mix and mingle with tourists and locals alike. It's a neighborhood bar with a fun atmosphere, cheap drinks, and belly-busting eats. Join in on a fun game of cornhole, lively chat with friendly bartenders, or bacon wrapped tator tots to pass the time.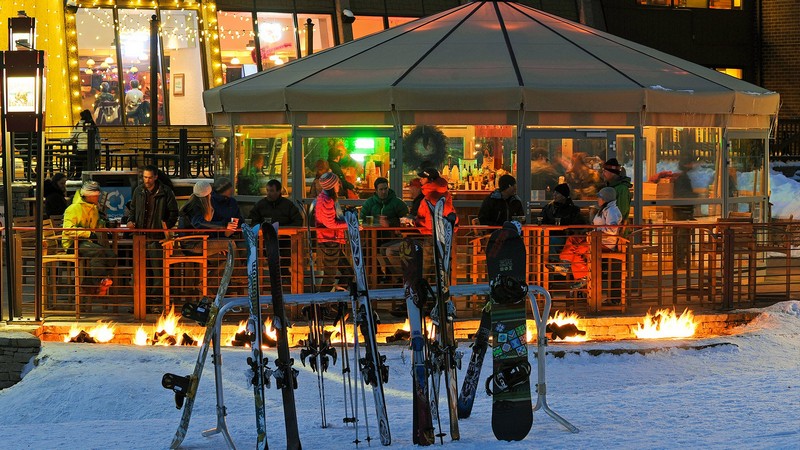 Photo Credit: Steamboat
---
Other Travel Guides