Saturday December 15, 2018
News
It's that magical time of year again, when Colorado gets new cannabis regulations! While the year saw a slew of state proposals, only a handful have been approved to move forward in the New Year. The cannabis landscape in Colorado may be changing though as the Centennial State says goodbye to Governor John Hickenlooper and welcomes Governor-elect Jared Polis in January. Here's a look at what to expect for Colorado cannabis in 2019.
Changes in Cannabis Packaging
Kicked off this past January, cannabis packaging has been in transition throughout the year, and many have already seen the new changes. The most notable differences from old packaging are that new containers bear the universal THC symbol, have more visible potency testing, and the product itself must come in completely opaque, childproof, containers.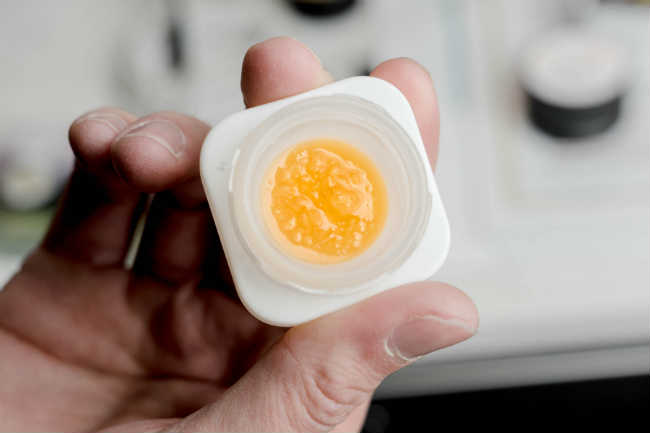 Example of acceptable opaque concentrate packaging under new regulations.
The packaging must also be re-sealable if it contains more than one dose. This will effectively eliminate the need for the once ubiquitous "exit bags" that marked the first era of recreational cannabis legalization in the state. As all containers are now compliant, dispensaries can now use discreet paper bags for purchases, or no bag at all if preferred. Recreational retailers will be able to sell products with the old labeling to consumers until January 1, 2019, and medical dispensaries will have through July 1, 2019. While the move to completely opaque containers is somewhat confusing (no other heavily regulated substance bears this restriction), it will certainly minimize the amount of light exposure to your products, which has been proven to degrade THC over time.
More Stringent Testing Regulations
Heavy metal in Colorado is something that belongs at a concert, not in your weed, and new regulations hope to keep it that way. New product testing rules include mandatory testing for mycotoxins and heavy metals. As the MED notes, "while acceptable limits for metals testing have existed in rule since 2014, the new rules add metals as a required test and modified some of the limits."
The key change here is that although limits existed before, testing for them was not mandatory.
Though some cultivators are likely in for an adjustment period of retooling their growing methods, the more stringent testing is likely to be a boon the end consumer in the form of improved safety.
Elimination of Medical Vertical integration Requirement
Previously, all medical cannabis dispensaries were required to source 70% of their products from an affiliated grow to meet a "vertical integration" stipulation. This effectively hobbled the medical wholesale market, and made it difficult for the medical cannabis community to keep pace with the recreational side.
Medical marijuana patients will soon have increased access to products at their favorite dispensaries.
The new guidelines remove this restriction in stages, eventually removing it completely, and allow medical dispensaries to operate on a more traditional business model. It's unclear how this will effect medical pricing immediately, but is likely to make it drop a bit down the line. This also means that medical menus are likely to expand in their offerings as a result. This should correct the oxymoronic state that previously existed, where medical menus were typically less diverse than recreational ones.
Cannabis Plant Material Recycling
Waste is an unfortunately large part of the current cannabis market, and it is especially disappointing when that waste material could be put to good use. The fibers of cannabis plants can be used to make all sorts of industrial products that have no connection to getting one stoned, and until recently, licensed Colorado cultivators were unable to transfer their leftover plant materials to be repurposed.
Fibrous marijuana waste will soon be used and recycled for other purposes.
That will all change with the introduction of HB 187. "The bill gives the state licensing authority rule-making authority to address conditions under which a medical or retail marijuana licensee is authorized to transfer marijuana fibrous waste to a person for the purpose of producing only industrial fiber products." Essentially, this is an entire law stating people are now allowed to recycle sticks, but it paves the way for bigger things down the line. In the future, it might even be feasible to manufacture cannabis packaging out of this same fibrous waste material, and create a sustainable closed-loop system of minimal waste.
Non-Traditional Product Approval Methods
Colorado has been a leader in many cannabis-related things, and that includes innovative preparations and delivery methods for medicating. Items like inhalers, suppositories and nasal sprays, which mimic more traditional medical application methods, require more stringent guidelines for manufacturing than smokable or edible preparations.
These products were held in a kind of limbo as regulators debated pulling the products from shelves altogether earlier this year. In a compromise, the "new rules require these products to be subject to an audit or pre-approval process to evaluate compliance with ingredient restrictions, manufacturing processes, and other safety standards."
There were many interesting and innovative propositions that were denied, such as implementing cannabis home delivery. In a few months, the cycle of regulation review will begin again (this time under a new governor), further refining the ongoing success of the rocky mountain cannabis market. When they do, we'll be back with an update!
---
What are your thoughts on the new cannabis regulations in Colorado? comment below!