How to Get a New York Medical Marijuana Card
Monday March 2, 2020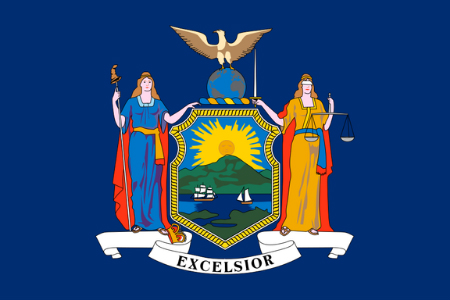 In July of 2014, New York legalized medical marijuana, becoming the 23rd state in America to do so. New York's Compassionate Care Act went fully into effect in January of 2016, when the state's first medical marijuana dispensaries opened their doors to registered patients.
Since medical marijuana sales have kicked off, New York has shown a thriving marijuana market and strong support from registered patients and doctors alike. Even more, New York has been pushing for recreational legalization as well, which could bring a flourishing market if passed. Although there have been several broken promises and many delays along the way, New York is still a prime contender for the next state to legalize adult-use marijuana.
While New York sorts out its plan for legalizing recreational cannabis, here's how you can get your medical marijuana card in New York and start shopping at dispensaries.
Restrictions
To qualify for a medical marijuana card in New York, patients must be diagnosed with a qualifying condition (see the full list under "Qualifying Health Conditions" below), a resident of New York or receiving medical treatment in New York.
Adults who are ages 18 and older may apply for a New York medical marijuana card. Minors may also apply for medical marijuana cards with the consent and designation of an adult who is 21 years of age or older to be their caregiver.
It is important to note that New York has restrictions of the cannabis products available for registered patients to purchase and consume. Solid or semi-solid forms (capsules, tablets, lozenges), metered liquid or oil preparations (for vaporization or oral consumption only), ground plant preparations, topicals, and transdermal patches. Currently, smoking marijuana flower is illegal, as are edibles.
Qualifying Health Conditions
The New York Department of Health lists the following conditions as qualifying for treatment with medical marijuana.
Qualifying Conditions for Medical Marijuana in New York:
Amyotrophic Lateral Sclerosis (ALS)
Cancer
Chronic Pain
Epilepsy
HIV or AIDS
Huntington's Disease
Inflammatory Bowel Disease (IBS)
Multiple Sclerosis
Neuropathy
Opioid Use Disorder
Parkinson's Disease
Post-Traumatic Stress Disorder (PTSD)
Spinal Cord Injury with Spasticity
Additionally, the NY Department of Health states the above conditions must also be accompanied by one of the following stipulations:
Additional Medical Marijuana Stipulations:
Cachexia or Wasting Syndrome
Chronic or Severe Pain
Persistent or Severe Muscle Spasms
PTSD
Seizures
Severe Nausea
Applying to Become a Medical Marijuana Patient
Qualifying patients of New York who wish to apply for a medical marijuana card must prove their residency, obtain patient certification from a licensed and registered practitioner, create an account at NY.gov, the complete and send a patient application to the medical marijuana program. This process requires access to a computer and internet, a valid email address, and all payments to be made in full before receiving a medical marijuana card.
Visit a Practitioner and Obtain Patient Certification
The first step in your New York medical marijuana card process is to obtain a patient certification from a qualifying practitioner. It is recommended you start by asking your treating practitioner, however, if they are not registered with the state, you may find a doctor that is and visit them. Practitioners are considered qualified to issue patient certifications if they are:
Practitioner Requirements:
Licensed and in good standing as a physician, nurse practitioner, or physician assistant practicing medicine
Qualified to treat patients suffering from one or more of stated qualifying conditions
Registered with New York State Department of Health's medical marijuana program
Completed a Commissioner-approved education course
If your treating physician is not registered for the medical marijuana program, you can still find a doctor in your area easily. Click here to view the list of consenting medical marijuana program practitioners in New York.
Complete Medical Marijuana Application
Once you have obtained patient certification from a licensed entity, you are now ready to complete your online application. First, you will need to create an account at NY.gov. Select "Health Applications" and then "Medical Marijuana Data Management System" to access the online application and fill out the required information electronically.
In order to complete the application process you will need:
New York Medical Marijuana Application Process:
Patient certification from a licensed and state-registered physician, nurse practitioner or physician assistant
Driver's License/State ID information, or a digital copy of proof of identity
Digital proof of New York residency
$50 application fee (Can be waived in certain financial hardship instances)
Follow the instructions on the state's webpage to input information, upload documentation, and pay the $50 fee to submit your application.
Get Your Medical Marijuana Card in New York
Upon approval of your application, you will receive your medical marijuana card through the mail in 7-10 business days. If for some reason your application has been denies, you will be notified via email.
When you are in possession of your New York medical marijuana card, you may begin purchasing medical cannabis products from New York dispensaries.
Medical Marijuana Reciprocity in New York
New York does not allow reciprocity at this time. Medical cannabis cards from other states or countries are not accepted in New York medical cannabis dispensaries.