Tips for Starting a Canna-Business
Friday October 9, 2018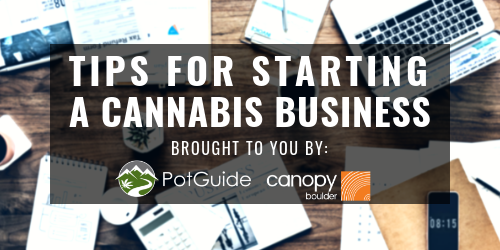 We are in the midst of a new gold rush, actually a green rush if you want to get into specifics. It's true, the cannabis legalization movement is spreading across the nation and bringing with it a generational wealth event similar to the ones experienced during the mid-nineties dot com boom, the early 1900s oil surge or, you guessed it, the 1840s gold rush. Despite several challenges legal cannabis faces on a daily basis, the marijuana industry is still growing at a rapid pace and expected to grow at a double digit compound annual growth rate (CAGR) for years to come.
By 2021, the global cannabis market is projected to reach $40 billion, making now a perfect time to get involved.
If you've been thinking about launching your own cannabis business, follow along as we dive into some key insights and best practices for becoming a success in this emerging industry.
Opportunities for Entering the Cannabis Space
If you want to start a cannabis business, you may be brainstorming the best point of entry. If you don't already have a clear idea in mind, the easiest way to find your ideal starting point is to think about the needs of the budding marijuana market. With cannabis, this is an especially great place to start because realistically the industry still needs businesses in almost every category. This may sound like overwhelming news for someone looking to narrow down their business plan, but it actually presents a wide variety of lucrative opportunities to look into.
The foundation of an industry is often taken for granted, especially in an industry like cannabis where there are lots of exciting and flashy components. Because of the unique nature of the cannabis industry, many entrepreneurs have focused on the marijuana plant itself and the different businesses that surround it like dispensaries, manufacturing facilities and cultivation centers. This has left tons of opportunity in other areas like human resources, marketing, legal, compliance technology, software and many more. All of these business areas are crucial to the success of a legitimate cannabis industry and bring with them tons of opportunities to thrive.
If your heart is set on a certain area of the cannabis industry that has higher competition, remember, the race has not been won yet! There are still chances to create something that's never been seen before or make a better version of something already on the market.
Starting Points for Launching a Cannabis Business
When thinking about where to begin in the cannabis industry, it's best to start by evaluating your strengths and weaknesses. Honesty is a really crucial part of this process as you'll need to be honest with yourself and also ask for honesty from your trusted community. So, present your business ideas with your network and get their feedback; it may help you better shape your business and target your goals. You may also want to look into the potential setbacks of each area of the cannabis industry you're interested in. Almost every area of the industry faces obstacles related to IRS code 280e, which causes many businesses to pay huge taxes, as well as the limited access to banking. These issues play out differently depending on which area you get into. Here are some examples of the challenges you might face in different areas.
Cannabis Industry Challenges
Real Estate: With no way to get loans, you must have out of pocket funds up front
Hemp/CBD: New area with lots of political headway and regulatory roadblocks
Cultivation: Very high entry price point and declining wholesale prices make it hard to turn a big profit and attract investors
Manufacturing: Limited expansion ability, strict ad restriction, saturated market
Retail/Dispensary: Similar to cultivation, this area has low profits and small returns for investors. Success in this area is dependent on having the most obvious and convenient location
While there's opportunity to strike it big, these regulated and plant-touching avenues come with a high potential for stress, which is why many entrepreneurs looking for a less risky play with more avenues for growth consider an ancillary cannabis business. Ancillary cannabis businesses support the industry and do not directly touch the marijuana plant, meaning no state licenses required. Because of this, they have less constraints from regulations, less strict banking and tax issues (leading to bigger profits) and are extremely great opportunities for acquisition – especially once federal prohibition is eliminated and larger businesses enter the legal cannabis space. Additionally, ancillary cannabis businesses often need less startup capital and have more well-defined exit strategies – things investors love.
Another thing to consider when starting a cannabis business is where you might have the highest likelihood for success. This is even more important when you're looking for funding. Think of it this way. An investor probably isn't going to invest in a growing operation with an untested grower when there are already businesses with 20 plus years of experience and industry roots under their belts.
It all comes down to established productivity and determining where your business fits in best. If you're trying to hit the ground running and avoid wasting time getting up to speed or catching up to competitors, then think about what you're already good or experienced at and start there. The industry still needs everything! Even the less sexy things like HR. And if you think you can establish yourself as more productive than an existing brand, go for it! Just make sure you're executing at your highest caliber. Don't worry though, we have some tips and resources if you need some help along the way.
Resources to Get Your Cannabis Business Up and Running
Starting a business is hard in any industry and climate. Factor in the highly controversial nature of cannabis and you can run into some big headaches pretty quick. Because of this, it can be helpful to find an ecosystem which can support you and help take your business to the next level.
CanopyBoulder, a seed-stage business accelerator, provides emerging cannabis businesses capital, mentorship and essential cannabis industry knowledge with the vision to help entrepreneurs launch their businesses and increase the probability of success. To this date, CanopyBoulder has invested in over 90 cannabis companies which have collectively created over $140 million in value, raised $35 million from outside investors, won 8 Arcview pitch prizes and created over 200 jobs. With cannabis industry experience dating back to 2013 and a wide network of experienced marijuana mentors, CanopyBoulder is an excellent choice for any cannabis business looking to quickly and effectively promote their operation to top ranks within the industry.
Tips for Becoming a Success
Getting your cannabis business up and running isn't the end of the journey; rather, it's just the beginning. The next step is to make your business successful and ensure it stays that way. In thinking about your opportunity in the cannabis space, check out 7 entrepreneurial words of wisdom that might help you along the way:
Get Yourself a Co-Founder
It's oftentimes too much work to go about starting a cannabis business all on your own. Even more, the cannabis industry is growing rapidly, meaning that you need to move quickly to keep up with competitors. Without a solid co-founder you can trust you may not be able to keep up with growth on your own.
Fully Commit
No investor wants a lukewarm investment. You have to be all-in as a business owner and entrepreneur for a chance at success. As mentioned above, the cannabis industry is moving so rapidly that people who aren't fully committed are getting left in the dust.
Aim High
As with anything you set out to accomplish, it's always a good idea to set your goals high and shoot for the moon. Working hard to innovate and advance this industry will prove fruitful for your business in the long run and will help you stay on track to keep working hard.
It's Not Easy
This one should be obvious but be sure to keep in mind that it's not easy to start and run a successful cannabis business. Expect to put in long and hard hours each and every day to bring your business to stability and fruition. After all, if entrepreneurship was easy, everyone would do it.
Don't Pass Up Basic for Sexy
There are plenty of opportunities in the cannabis industry that are needed but ignored because they aren't considered as "sexy" or as exciting as some other areas of the industry. Remember what we said earlier though? Foundation of the industry is key and these types of businesses will have some of the best longevity over the years.
Pay Attention
The cannabis industry is dynamic and growing fast. Things are bound to change as the industry evolves and you need to make sure you're evolving with it. One change in regulations or a new market popping up could make or break your business so be on top of it and prepare accordingly.
Watch Out for "That Guy"
Be aware of who you're partnering with and what you get yourself into. Cannabis is still a federally illegal substance and you need to take proper precautions to protect yourself. Knowing who you're in business with is one of the most important things to consider and could keep you out of trouble in the long run.
Final Thoughts
At the end of the day, there are still many opportunities to get in on the ground floor of the cannabis industry and become a success. And while creating a stable business doesn't come without its share of roadblocks and hurdles, building up a brand and working toward your passions is a rewarding trade-off. After all, who doesn't want to work for themselves doing what they love! Now go get started creating the cannabis industry's next major business!