Sunday August 19, 2018
By Andrew Ward
420 Culture
We have some troubling news that you definitely haven't heard before: Lawmakers are spreading misinformation about cannabis! Okay, you're probably well aware of the misconceptions, stereotypes and plain out lies perpetuated by ignorant government officials and media outlets. Tough pill to swallow, right? Give yourself a moment before scrolling further. Now that you're prepared, let's dive in and see just how terribly some of our elected officials are maligning pot now.
Attorney General Jeff Sessions
We don't know if Jeff Sessions watched Reefer Madness one too many times while growing up in the Shire or what. Either way, the Attorney General's cannabis misinformation is long and strong.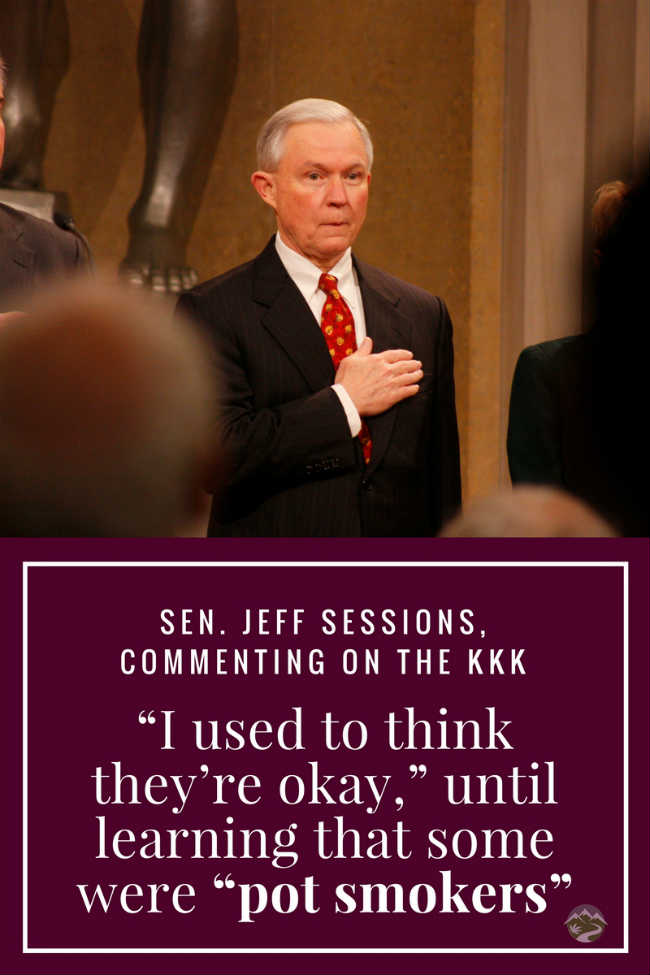 Pretty questionable thoughts there, Jeff.
Between claiming "good people don't smoke marijuana" to being ok with the Klan until he found out the smoked cannabis, it's clear the AG's views are beyond antiquated for the time. These less than fun facts are just a tiny bit of his history. For a look at more, head here and here where you can find his takes on Lady Gaga and cannabis being fashionable. With him, the misinformation never stops.
State Senator Dodie Horton
Remember, folks, always be fact checking. Louisiana state senator Rep. Dodie Horton definitely didn't do that when she recently cited an article covering the 37 deaths in Colorado on its inaugural cannabis legalization day in 2014. The problem was that Sen. Horton received her news from The Daily Currant, a satirical news site.
No deaths were reported on legalization day, or any other day in the history of cannabis usage for that matter.
Horton claims she received the information from a "so-called 'trusted' source" that she now knew was not to be trusted. The blunder would've been hilarious had Horton not been a State Senator using her time to derail Louisiana's medical marijuana program.
Former Governor Chris Christie
Even by New Jersey standards, former Governor Chris Christie was a bit of a bully. At one point, he was loved for shaking up the status quo. That, however, would erode over time after such fun decisions as Bridgegate and going to the beach with his family after shutting them down to the public.
It's a good thing that New Jersey has moved on from Chris Christie to current Governor, Phil Murphy.
photo credit
Not to be lost in the shuffle is his misinformation on cannabis. That includes a 2017 quote where he called cannabis "...blood money. It's disgraceful and it's disgusting." That same year he also accused Democrats of trying to poison children by legalizing pot. Gee, with such a disdain for facts and public demand, it's a wonder why he ended his term with just a 13 percent approval rating.
State Senator Ronald Rice
Give credit to New Jersey State Senator Ronald Rice for reminding us that cannabis ignorance goes across the aisle. We're not sure if Senator Rice confused cannabis with K2 or spice when he recently said, "If you get too high you die from it. It kills you directly if it's too potent." Either way, we don't know where he found this information.
The gaffe flies in the face of the zero reported overdose deaths related to cannabis since the plant's first appearance in written history back in 2727 B.C. With it being such a new topic, it's easy to understand Sen. Rice's ignorance – or is it?
Congressman Joe Kennedy
Massachusetts Congressman Joe Kennedy may not be the next Presidential candidate in his family due to his out of touch pot policies. Admittedly, his opposition is less about spreading misinformation as being on the wrong side of history. Kennedy was just one of ten House Democrats to oppose measures that protected patients and providers from federal regulators. Additionally, in 2016 he attended a fundraiser to block adult use in Massachusetts.
Don't be fooled, Joe Kennedy is not as cool as former president JFK when it comes to cannabis.
photo credit
The Congressman's opposition claims to be for more federal enforcement to deter special interests. However, plenty of public skepticism stems from his voting history and family connections to the anti-cannabis movement. If Kennedy and establishment Democrats believe they can win on an anti-pot policy in 2020 or beyond, they might as well go back to the drawing boards to try and come up with another strategy.
Representative Steve Alford
Kansas House of Representatives member Steve Alford doubled down on misinformation by adding false, race-based reporting to the mix. In early 2018, Alford cited black people's "character makeup" and "genetics" for having a lower tolerance to cannabis.
Alford's comments on cannabis are completely ignorant, baseless and down-right unacceptable.
photo credit
At a town hall, Rep. Alford was discussing cannabis as a gateway drug while calling for older era bans to return. To support his claim for returning to 1930s drug prohibition, Alford explained, "One of the reasons why, I hate to say it, was that the African Americans, they were basically users and they basically responded the worst off to those drugs just because of their character makeup, their genetics and that."
Alford did apologize but not for the misinformation. "There are certain groups of people, their genetics, the way their makeup is, the chemicals will affect them differently," Alford told the Garden City Telegram. "That's what I should have said was drugs affect people differently instead of being more specific." What an asshole.
How to End Cannabis Misinformation
These politicians aren't the only ones using misinformation to shape the cannabis conversation. Want to help end these negative misconceptions and lies? Be sure to check useful resources like NORML's Governor's scorecard, PotGuide and other reliable outlets to stay up to date on lawmakers and cannabis in your neck of the woods.
While we may already know the truth about cannabis, others certainly do not. From our misinformed loved ones to people starved for information by lagging Internet connections, the campaign against cannabis lives on. When you hear lies spread about cannabis, do your part and speak up. You never know how it could shape a person's views on the issue.
---
What are your thoughts on the misinformation about cannabis being spread by politicians?
Photo Credit: Wikimedia Commons (license)