Northern Standard Chocolate Bars - Northern Standard
We had already heard of Northern Standard from the popularity of their tasty vape products, so the team was excited to see what some edible treats from the same manufacturer were like. It's hard to deny that infused chocolate is one of the most flooded sectors of market, and that there are a lot of good options vying for customers' attention on dispensary shelves, so we put Northern Standard's to the test to see how they measure up.
For this review, the PotGuide team tested the following products:
Dark Chocolate Raspberry Crunch Bar

Dark Chocolate Fruit and Nut Bar

Dark Chocolate Raw Cacao Nib Bar

Milk Chocolate Campfire S'mores Bar

Milk Chocolate Cappuccino Bar

Milk Chocolate Turtle Pecan Bar
All of the above mentioned chocolate bars are part of Northern Standard's line of infused artisan chocolate bars. Let's take a closer look at our review team's results.
Appearance
The chocolate bars themselves are evenly delineated and very easy to break apart, more so than a lot of the other chocolate bars on the market. This may seem like a small detail, but can be extremely important for beginner consumers or those aiming for accurate dosage on the go. The bars snapped into even pieces by hand and even easier using just a butter knife to divide them. The "toppings on the bottom" strategy works well for the majority of the bars, and can act like a hidden treat if you're sampling different bars together (they look identical from above), however a few didn't seem to quite fit the ingredient size for even dispersal like the Fruit and Nut bar (still delicious though).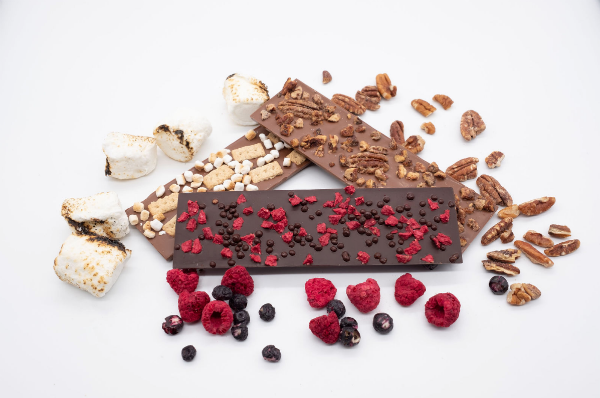 The packaging may not be overtly flashy, but the clean, almost unassuming design is a welcome change from the typical rotation of bright colors, hipster minimalism or cartoon-like exaggeration. In a wild and bold move, this chocolate bar is one of the few edibles that actually looks like elegant, artisan chocolate bar packaging. It's something we wouldn't be embarrassed to bring as a treat to a dinner party or offer a house guest. Basically, you can eat one and still feel like a grown-up.
Aroma
A lot of chocolate bars on the market can smell hashy, from a low hint to a pungent cloud.  When we opened up the Northern Standard bars we smelled tasty chocolate, various toppings, and nothing else.  Chocolate snobs and connoisseurs may have more complex answers, and maybe some people prefer a little skunk smell with their infusions, but for us, the bars smell like chocolate should smell: rich and inviting. 
Flavor
It seems like every member of our team had a different favorite, which speaks well to the caliber of the whole product line. The chocolate is clearly made with high-quality ingredients, and many on our team were especially taken with the dark chocolate varieties. We found the toppings to be tasty and well varied without feeling overly elaborate or distracting from the main ingredient.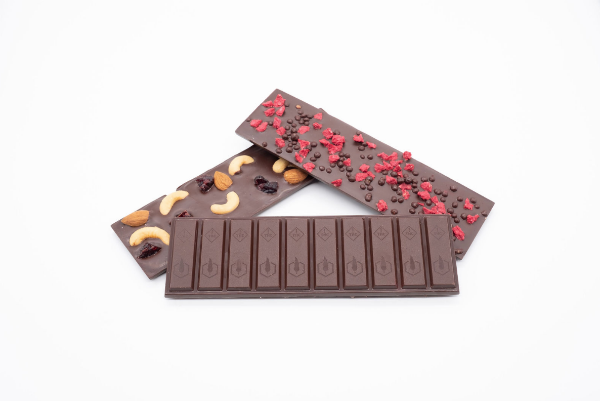 While many people have varying preferences on the flavor of their edibles, the majority of the PotGuide review team prefers products that don't have a hashy flavor or aftertaste. That being said, the Northern Standard chocolatiers have done an excellent job crafting a unique chocolate blend that has bold flavors to overpower any marijuana notes left behind during the infusion process. All of our bars tasted like pure chocolate and nothing else except the advertised flavorings, which can't be said for a lot of other bars on the market. It's clear Northern Standard has put in a lot of time and effort refining their recipes and it definitely shows through the clarity, consistency, and overall great flavors their chocolate bars provide. It's honestly rather tough to pick a favorite, but the Campfire S'mores and the Raspberry Crunch were the highlights of our review experience – although all six bars were pretty equally delicious and effective.
Moving onto a little more constructive critiquing, we felt that there could have been some better ingredient dispersal for a few of the preparations. For example, the Fruit and Nut bar's chunky pieces are delicious and add a rustic authenticity, but some chopped bits might have been more ideal for consistency. Additionally, every S'mores bar on earth could probably use a little more marshmallow, but this feels like a very minor (and sweet-tooth fueled) complaint. Despite these minor notes, any of the flavors make an excellent choice for making your own s'mores at home (including the S'mores bar), as the chocolate has a little more heft and creaminess than others on the market. 
There may be wackier or more elaborate bars out there, but when we want a classic chocolate edible this is exactly what comes to mind. Northern Standard's chocolate infusions are a little dangerously snackable, so consider stocking up on some non-infused treats to satiate the hunger.
Effect
The PotGuide review team has a range of tolerance levels, so we were all happy to learn that the Northern Standard chocolate bars were consistent and true to potency. They give a nice body lift without the "heavy" feeling that can accompany some edibles, and delivered like a true hybrid: fun, uplifting and just a little floaty. Most of the team found the onset to reliably happen right around the 45-minute to 1-hour mark, with one team member reporting they felt something within the first 20 minutes. A few members reported longer uptake, about 1.5 to 2 hours, but also mentioned that this is typical of their personal uptake rates.  One reviewer reported an exceptionally potent experience from the Raw Cacao Nibs bar (dark chocolate has been anecdotally reported to enhance uptake, and the raw cacao might be acting as a nice booster), but certainly nothing uncomfortable. Not a single one of our reviewers came away disappointed. For effect, this is sort of the ideal edible – especially with the easily dosable portion design.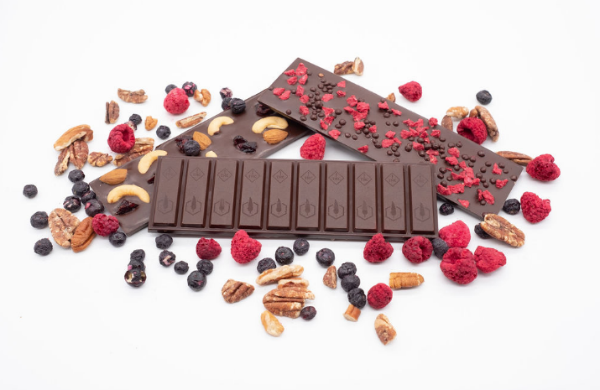 Overall
It can be difficult to find a classic, reliable infused chocolate bar that doesn't compromise on taste or effect, but Northern Standard's chocolates are just that. True to name, we think of these bars as the standard for what to look for in a good edible. There's a lot of subjectivity that goes into what may be the "best" bar out there, but when looking for something that's going to please both a novice and a munchies master, this is the product we'd reach for.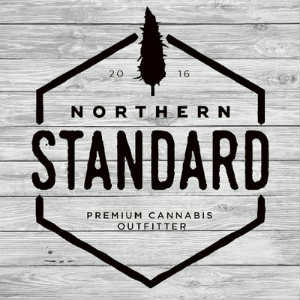 View All Product Reviews