WeDryer Herb Dryer - CBDRY
When it comes to cultivating cannabis, the importance of properly drying and curing marijuana after harvest cannot be stressed enough. Because of this, it's a good idea for growers of all levels to utilize modern cultivation accessories and tools to help produce the best cannabis flower possible. There are currently many ways to dry harvested cannabis, but most fall under the DIY category. To ensure a clean, consistent and effective drying process, utilizing specialized equipment can be a great investment. One of the only products on the market aimed specifically towards drying cannabis is the WeDryer Herb Dryer (available in 2 sizes, regular and XL). Without further ado, let's take a closer look at this unique drying solution.
Functionality
Generally speaking, many of the available products catered toward drying harvested cannabis are rather difficult to use and have a minimal degree of added efficacy. Sure, they get the job done well enough, but as growers ourselves, we've been looking for an easy-to-use drying application that actually adds some improvement and excitement to the process.
In terms of overall function, the WeDryer works just as it was designed and dries harvested cannabis exceptionally well.
The constant airflow is a great feature of the WeDryer unit and is a differentiator from other drying units that utilize a passive approach. Additionally, the WeDryer's purification and filtration system is really effective at eliminating odor – an especially great feature for any grower looking to stay discreet and not draw too much attention from a pungent smell. On top of the effective odor control, we found the WeDryer to provide consistent, uniform drying that eliminates the possibility of mold forming on your flower.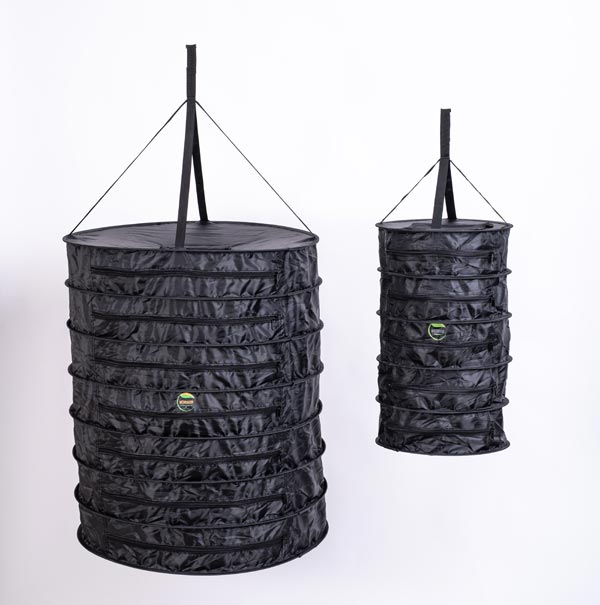 Another useful feature of the WeDryer is the compartmentalized design that allows multiple plants to be dried at once with even spacing and separation. The airflow is consistent in all areas of the interior and helps encourage even, heterogeneous drying of the plant matter.
Ease of Use
When we first unboxed the WeDryer, we were a little worried that set-up might get complicated – especially due to the fact that you have to plug in the active airflow system. But with a little bit of thinking and careful following of the directions we were pleasantly surprised that the set up took minimal time and was pretty simple overall.
Once up and running, the WeDryer really is a breeze to use and doesn't take up too much space either (which is really useful for anyone growing in a small space.) Plus, as mentioned above, the innovative purification and filtration system keeps odor at bay without any effort from the grower. We also found that the WeDryer can be hung virtually anywhere around the house. Without the need to clear any floor space, a home grower can easily hang multiple plants to dry and keep their cultivation areas free of clutter.
Appearance
Everyone has a different aesthetic when it comes to organizing a grow room, but honestly the WeDryer is versatile enough to fit into almost any home grow environment with relative ease. Sleek enough to blend into a neat and sophisticated grow and not too "high-tech" looking to feel right at home in an average basement or closet grow, our review team found the WeDryer's simple design to be of excellent stature. The fact that it's not bulky like some other units is also a great feature and the compartmentalized interior makes properly separating and spacing your plants a breeze. Even better, when you're done using the WeDryer, it can be stored neatly in its carrying case without taking up much space.
Value
Coming in at $99.00 for the regular-sized unit, the WeDryer is an excellent value for any grower looking to boost their efficiency in the drying stage in a cost-effective manner. Not only is this product affordable but it also is durable, environmentally friendly and allows for high-capacity drying in a compact and minimally invasive unit.
Overall
Drying is such an essential step of the cannabis cultivation process and many newcomers to growing can experience issues during this stage. Nothing is worse than working hard to grow your plants and seeing the fruits of your harvest perish due to improper drying methods after harvest. That's why it's essential for every grower to invest in effective products to help ensure the best possible finished cannabis flower. All in all, the whole review team was pretty impressed with the WeDryer and would recommend it to any home grower that's in the market for a new tool to dry their harvested plants.
In terms of top features, we thought the WeDryer ranked the highest in the following categories:
Odor control
Mold prevention
Drying uniformity
Discretion
We cannot stress the importance of properly drying your cannabis enough so it's great to see some innovation on the market catering towards helping consumers with the process.
View All Product Reviews