Sugar and Kush CBD Gummies - Sugar and Kush
CBD is becoming one of the most popular new products to hit shelves, and now with CBD's presence in major retailers, both cannabis consumers and non-consumers alike can enjoy a wide variety of products infused with CBD. In the midst of this rapid sales uptick, many manufacturers and brands have come out with their own line of CBD products to try and capitalize on the trend. One of those brands trying to stand out from the mix is Sugar and Kush. For this product review, we had the pleasure of sampling Sugar and Kush's 750mg CBD gummies.
With a name like Sugar and Kush, expectations were high for a tasty treat with CBD benefits. There's a hefty amount of competition in the CBD gummy world, so we were eager to put Sugar and Kush to the test. Check out our review results below!
Appearance
We found Sugar and Kush's packaging to be pretty elegant, giving off a well-designed appeal that is clean, sophisticated and approachable. Let's put it this way, if you were window shopping CBD gummies, the Sugar and Kush labeling is enticing enough to draw you in for a closer look. In contrast to many other brands on the market, the white and pink aesthetic feels professional and bright, quite a refreshment from a lot of the drab and boring packaging for other CBD products. Their cupcake logo is unique and easily identifiable (which is usually not the case for other brands).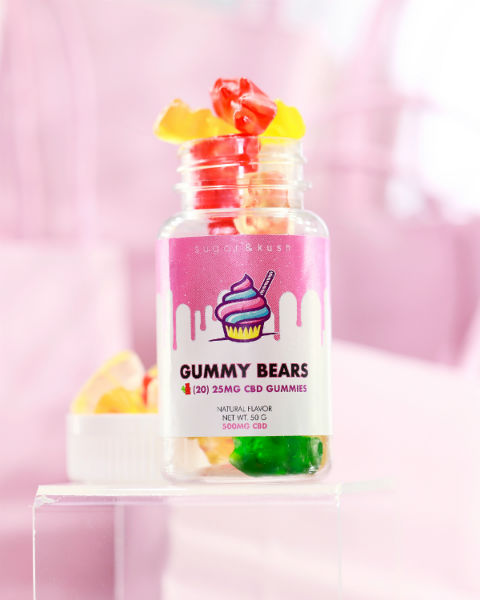 In terms of the gummies themselves, they look pretty indistinguishable from a standard gummy bear. They come in standard colors (red, green, yellow, and clear) and well, are gummy bears. There's not a lot more to say on that unless you've never encountered a gummy bear. However, if you like gummy bears, this is an exact replica of the nostalgic treat. For those taking CBD on the go, it's an ideal inconspicuous preparation.
It is worth reiterating that these look indistinguishable from non-infused gummy bears, and once out of the container, you would have no way of discerning that they contain CBD. As such, they should probably be kept separate and away from similar-looking non-infused products.
Aroma
The aroma is also true to the gummy bear original, sweet and delectable as ever. There's a pleasant waft of fruity sweetness upon opening the bottle, with no other smells. Some CBD infused products can have a little bit of an earthy or oily undernote, and thankfully there's none of that at all with the Sugar and Kush CBD gummies. They smell like candy. Again, these products are pretty tough to tell apart from non-infused candy. You won't be able to smell the difference between the two so make sure you keep your gummies in the original packaging or store them in a container that is properly labeled.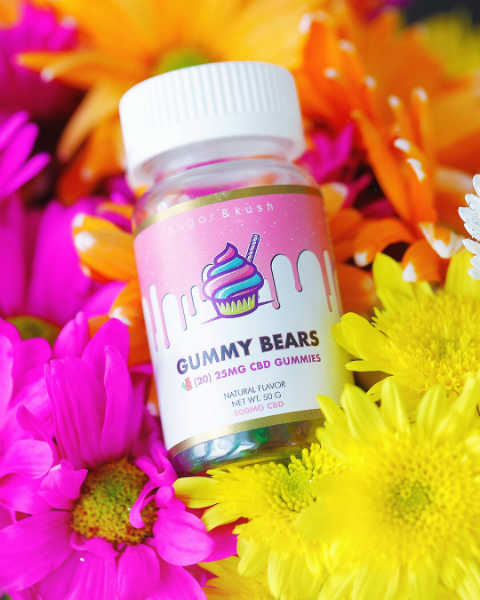 Flavor
The flavor of the Sugar and Kush CBD gummies is also pretty true to the taste of original gummy bears (score one for nostalgia!), with the classic variations of raspberry (red), orange (orange), strawberry (green), pineapple (colorless), and lemon (yellow). If you have deep opinions on gummy bears, these are high-quality and will stand up to most gummy fans' standards; they are very similar to a Haribo gummy, with absolutely no hint of any hemp flavor. They have bright, clean and juicy taste just like you'd expect from similar non-CBD infused offerings, which can make it a little difficult to stick to the 1-2 daily recommended dose. However, if you are looking to take larger doses of CBD, this is a tasty delivery method, so you can't go wrong.
Effect
At the recommended dose of 1-2 gummies, most reviewers experienced a nice subtle relaxation, though a few on the team preferred 3-5 to achieve desired effects. As uptake efficiencies can vary by user, this still felt well within normal ranges for all reviewers. One reviewer noted significant relief from a sore back and two others reported they slept more deeply through the night. Like any edible, there are variances due to body chemistry, but overall the team found these to be a reliable, relaxing gummy. Plus, these gummies are nearly free of sugar and show 0mg of sugar on the label. This makes them a perfect option for people who prefer a higher dose of CBD in their gummies, as you can have several without feeling full or fueled by sugar. And for anyone with special dietary restrictions, these are also some of the only Keto CBD gummies on the market.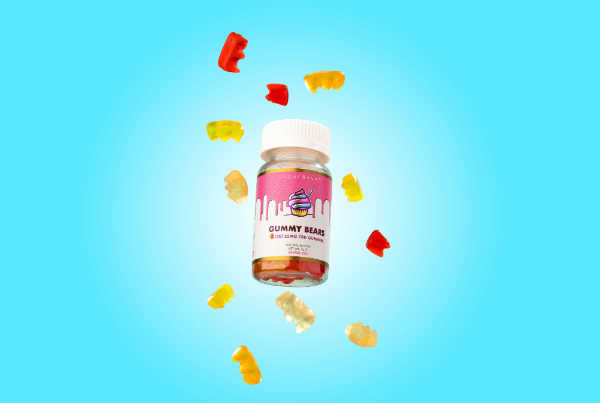 In terms of onset, the bioavailability of the Sugar and Kush gummies is fairly high. Uptake began almost immediately and, with the proper dosage dialed in, the effects were noticeable within fifteen minutes or so. The duration of effects was largely influenced by the consumer's individual response to the product. Some reviewers reported effects lasting up to four hours while others maintained effects for one to two hours. Most importantly, no one on the review team reported a lack of effects (which is unfortunately sometimes common in CBD products) and almost everyone came to the same conclusion that the Sugar and Kush CBD gummies provide pretty reliable relief once you take the time to find out what effective dose works best for your own individual needs.
Overall
Sugar and Kush's CBD gummy bears are a traditional gummy bear with a kick of CBD. The professional presentation is a welcome change in a sea of similar products, as is the reliable effect. It can be difficult to walk the line between candy and supplement, and Sugar and Kush does so with aplomb. If you're looking for easy CBD dosing at home or on the go, these are a great option.
View All Product Reviews