Joy Organics Premium CBD Softgels - Joy Organics
When it comes to cannabis and sleep, countless consumers consider marijuana to be their number one aid for hitting the hay. However, since many people don't have access to legal cannabis products, hemp-derived CBD is becoming one of the most popular legal sleep aids on the market. We recently had the pleasure of trying a popular CBD sleep aid and we're excited to share our results with you.
In this product review, we sampled Joy Organics 'CBD Softgels with Melatonin for Sleep.' If you're interested in improving your sleep regimen through legal, safe CBD consumption, keep on reading to see if Joy Organics has the right products for you.
Appearance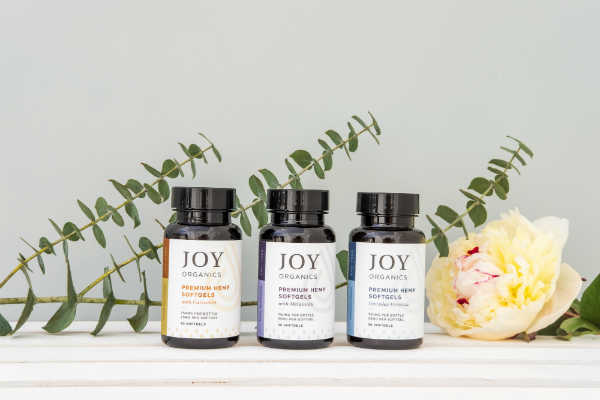 Joy Organics has done a great job branding their products in a manner that is subtle, discreet and elegant. The bottle is not flashy or overly colorful, and the small golden capsules have a professionally-made look and feel. In fact, the bottle and its contents would feel right at home in any average medicine cabinet with other supplements. This is especially important for CBD products with non-cannabis ingredients like Joy Organics Softgels, which have melatonin. We can't tell you how many other CBD products we have seen that don't clearly label or acknowledge the non-cannabis ingredients, which can be vital information for anyone using CBD to help with a health issue. While the packaging is standard in most other ways, we appreciated the forthright presentation.
Aroma
The capsules had no noticeable flavor at all, which is ideal for a pill. The PotGuide review team has seen its share of CBD capsules, and others sometimes have a rank taste similar to a big multi-vitamin. The Joy Organics capsules had none of that, just a straight-forward pill. In addition, the Softgels were appropriately smooth and easy to ingest.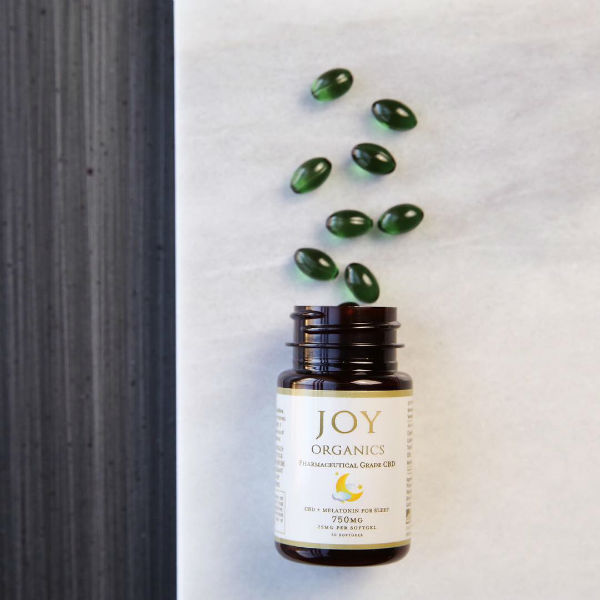 In terms of aroma, there is a slight hemp smell, but it's pretty indiscernible and overall the bottle smells like your everyday bottle of vitamins or supplements. A clean, light smell exists, but it's nothing pungent or stringent. There's not a lot to say about the smell of the capsules. However, we'd call that more of a feature than a bug. CBD capsules shouldn't smell like much at all, and these don't. For anyone worried about carrying cannabis or CBD products that smell, the Joy Organics Softgels are the perfect option. They deliver a great dosage of CBD in a discreet manner with no odor extending out of the packaging – perfect for consumption on the go or in monitored situations like the workplace.
Effect
The general consensus of the PotGuide review team was that the Softgels were pretty effective. There were some slight variations in effectiveness, however these seemed more related to the user's experience with melatonin than CBD. One user mentioned a little lingering daytime sleepiness, but mentioned this had happened to them before with other melatonin products. They otherwise slept well, and reported they usually use other sleep aids, had abstained for the review, and preferred the Joy Organics in the end.
Depending on your body's tolerance to CBD products and the way the cannabinoid individually affects you, the effective amount needed could take a little trial and error to dial in.
We started low with one tablet and some members of the review team felt effects at this level, however, some members needed up to 5 Softgels to being to feel effects. So, while some trial and error is necessary, once you dial things in and find what works best for your body it's pretty easy to maintain a regimen that is useful.
Overall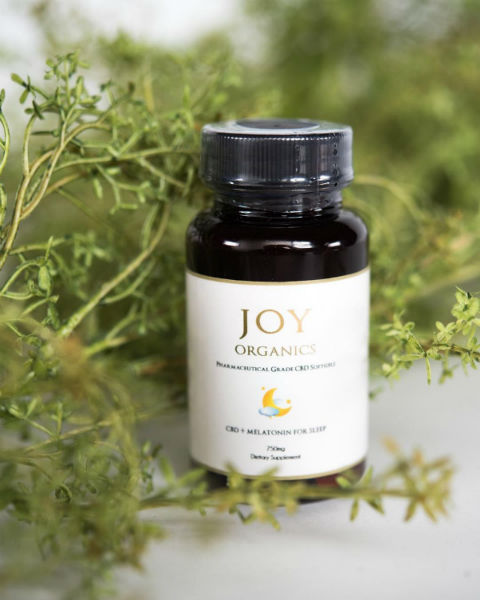 Coming in at $99.95 for 30 Softgels, this particular line of products probably isn't for the casual consumer looking to see if CBD might work for them. Ideally, these would be excellent for anyone who has a purpose-driven reason for trying CBD, like trouble sleeping. Furthermore, the Joy Organics Softgels are a great option for people in non-legal states looking to experience some of the positive effects CBD has to offer. The good news is that even though the price point is a little high, the effectiveness of the product makes it worthwhile for any consumer who wants to get better rest at night.
Overall, our team found Joy Organics Softgels with Melatonin to be a good alternative to other more intense THC-infused options or over-the-counter sleep pills. The CBD effects were dependable and the melatonin was a nice kick to help get us all the way to dreamland.
View All Product Reviews