Owning a grinder is an essential component of being a cannabis consumer as it helps make daily consumption both easy and organized. There are lots of cannabis grinders on the market geared toward marijuana enthusiasts though, making it difficult to select the perfect one for you. When it comes to grinders, there are a few key questions to ask:
Is it made in America?
Is it made with medical-grade components?
Does it have sharp teeth?
Asking these questions narrows down the search for the perfect grinder, and can help you choose from only the best options on the market. A new contender to the category of finely crafted grinders is the Herb Ripper. Handcrafted in Cincinnati, Ohio, Herb Ripper grinders are gaining popularity for their precision engineering and 100% medical grade stainless steel machining. Having tried out most of the other top grinders on the market, everyone on the PotGuide review team was excited to see what the Herb Ripper could do.
Check out our thoughts on the Herb Ripper grinder below:
Functionality
The Herb Ripper functions like a dream, tearing through nugs with relative ease. The grind action is extremely smooth and we found minimal need to grind for excessive amounts of time to get that last little piece through. The Herb Ripper's unique multi-edge teeth make for efficient grinding and full pass-through of material with only a couple of twists. Although the Herb Ripper's teeth appear to be more peg-like than pointed, they are incredibly sharp and the unique design works well at grinding cannabis flower evenly and consistently. We tried out all the grinding options (fine, medium and coarse) and found the medium option to be best for our preferences. Coarse was a close second and we found the "fine" option to be a little bit too ground for us. The fact that you even have the option to choose your preferred grind is a fantastic feature of the Herb Ripper and appeals to a wide variety of consumer opinions.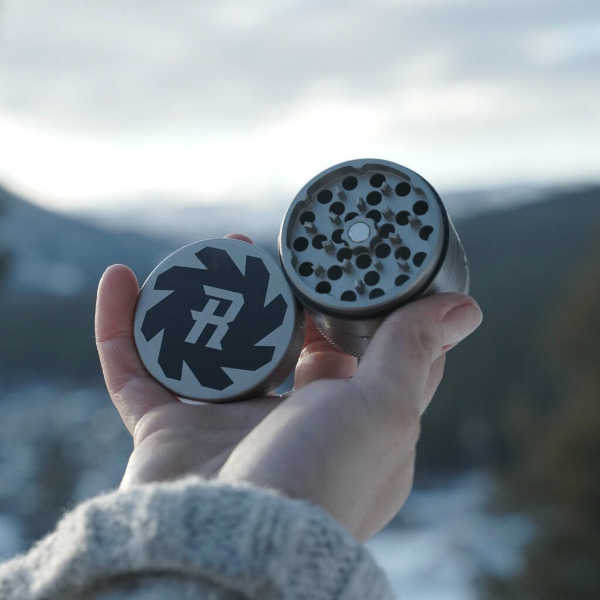 For our review, we used 2 different types of cannabis – an older, dryer Blueberry Northern Lights, and a fresher, stickier OG Kush. In both dry and sticky circumstances, the Herb Ripper performed excellent. With stickier nugs, the medium grade was able to tear through any clumps or lumps and create an even consistency perfect for rolling joints or keeping a bowl rolling. Even with dry buds, the Herb Ripper provided a consistent grind without turning the flower into dust. We did find that the coarse grade to be the best for dryer buds though.
Another great function of the Herb Ripper is its "firehose" quarter turn threading. Instead of turning the grinder 360 degrees or more like most grinders on the market, the Herb Ripper needs only a 90 degree turn to open and close its threaded chambers. We found this to be an incredibly useful feature that saves time and speeds up the consumption process. Additionally, we never had an issue with any thread overlapping, crossing or difficulty trying to attach two pieces together. The process for using this grinder is very smooth, sophisticated and quite frankly fun to operate.
In terms of kief collection, our grinder came equipped with a medium grade screen for filtering. We found the micron size on this screen to be slightly too large for our liking, so anyone looking for finite kief collection should consider using the fine grade screen (we did not have a fine screen to review). The filtering allowed slightly too much plant matter in our opinions, however, was consistent throughout our testing process.
Ease of Use
As touched upon above, there are many features of the Herb Ripper that make it very easy to operate. We'll admit, grinders really aren't that hard to use to begin with, however, the Herb Ripper simplifies the process and makes achieving the perfect grind a breeze. All of the customizability factors are intuitive, seamless and work as they're intended. Even more, the modular makeup of the Herb Ripper makes cleaning a breeze – especially when you remove the kief screen.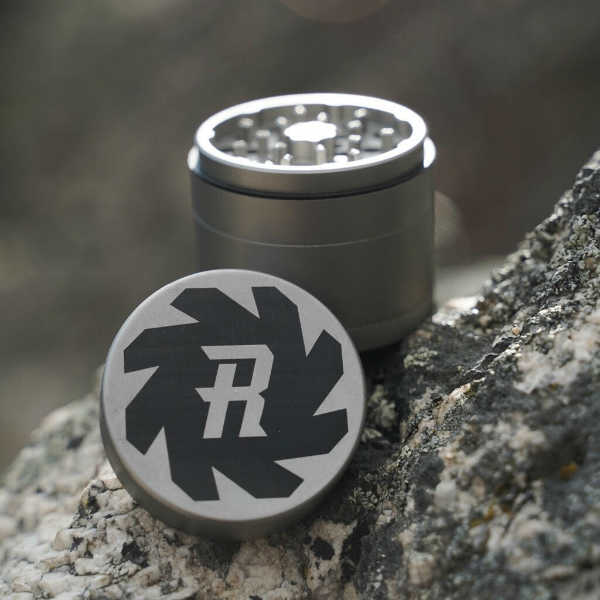 Appearance
From a design perspective, the Herb Ripper embodies a subtle elegance that slightly more branded than other grinders on the market. Their logo adorns the top piece of the grinder and presents itself in a bold, jagged saw-shape that draws you in and invites you to ponder just how sharp the teeth really are. With an enticing name like Herb Ripper, we assumed that the design was created as an indication of the grinder's weed-shredding capabilities.
Aside from the logo on top, the grinder is otherwise non-branded and feels exceptional when held in your hand due to the weight of the stainless steel. Since most grinders on the market utilize aluminum in their designs, they are universally known to be pretty light. The moment you pick up an Herb Ripper grinder you can tell it's been machined out of high-quality stainless steel as even compared to larger grinders, the Herb Ripper is undeniably heavier. We really enjoyed the weight of the Herb Ripper and although it doesn't matter in terms of functionality, the aesthetic appeal is quite refreshing (plus the stainless steel design does add benefits to function, too). The Herb Ripper unit we received for review was fitted with diamond-knurled edges on the top and bottom, making for easy gripping and a nice, clean imprinted design pattern.
On the inside, the machining and engineering of the Herb Ripper really shines. Quarter turn threading (more on this later), customizable grading from course to fine for both grind and kief filtering, and a unique omni-edge teeth system are all features that stand out appearance-wise. Plus, the modular construction capabilities allow the consumer to choose between a 2-, 3, and 4-piece grinding set-up. The Herb Ripper also comes with a handy guitar pick style pollen scraper and an innovative stainless steel ball agitator that sits inside the herb chamber to encourage more kief collection. We found this to be a simple yet delightful feature as most of us on the review team use a coin to accomplish this in our current grinder set-ups. Although it's not a monumental change to the typical grinder, the thoughtfulness of this design is what is the most meaningful. From the get-go, it was clear that the Herb Ripper was meticulously engineered in all aspects, even down to the kief collection agitator.
Value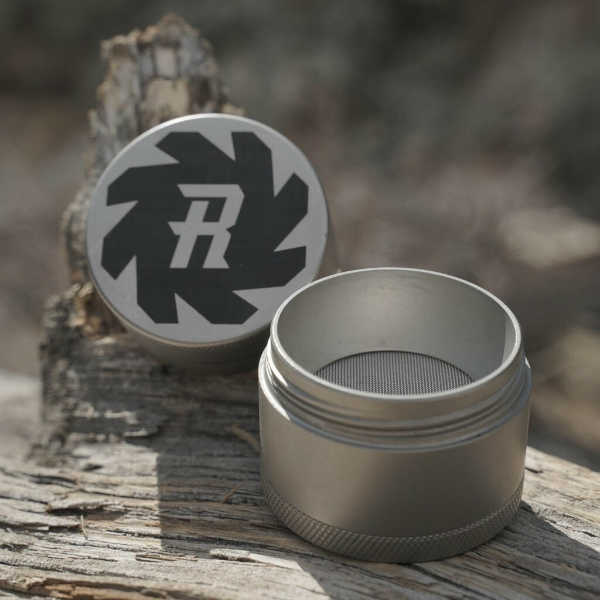 Depending on what you're looking for, Herb Ripper offers several different pricing options for different modular varieties of their grinders. For the precision machinery and USA-machined stainless steel though, there's no other grinder on the market that matches the price point. So, if you're looking to support an American company and spend a little extra on quality parts and materials, the Herb Ripper is definitely right up your alley. For high-end grinders, the Herb Ripper holds a strong value and is definitely one of the most durable pieces we've ever tried out.
Overall
Everyone on the PotGuide review team really enjoyed using the Herb Ripper grinder and we would definitely recommend it to anyone looking for a quality grinder that doesn't compromise on durability. The stainless steel design feels great in your hand and the smoothness of the grind is like a hot knife through butter. With routine maintenance and cleaning, it wouldn't be out of the question that an Herb Ripper could last a lifetime – especially with its replaceable kief screen functionality. One of the only downsides we could find about the Herb Ripper is that it doesn't come in a 4" size, but most consumers aren't looking for that anyways. Check out an Herb Ripper today! You won't be disappointed.
View All Product Reviews