Bruteless Bubble Hash Washing Vessels - PurePressure
Solventless concentrates are receiving a lot of attention these days. In the midst of vaping-related illnesses and public outcry against potentially harmful cutting agents like polyethylene glycol (PEG) and propylene glycol (PG), people are turning to solventless concentrates for a clean cannabis experience and peace of mind. The uptick in demand for solventless hash products has even made prices more affordable at the dispensary level. With prices falling under the $50 mark per gram for some premium rosin in stores, the cannabis industry is seeing demand slowly shift away from hydrocarbon products. We should start to see prices come down even further on solventless products as a result – especially in established markets like Colorado.
For anyone who wants to avoid the dispensary and try their hands at making their own solventless hash at home though, there are some really great options to choose from. And unlike hydrocarbon extracts that use chemical solvents like butane and propane, solventless concentrates use only water, heat and pressure to extract resin from cannabis plants. The rising demand for rosin and other solventless products has paved the way for innovation in solventless extraction, with many accessories catered to the home user. With a little know-how and the right equipment, you can make solventless hash products that rival the quality of what you'd find at the dispensary.
Speaking of equipment for solventless extraction, the PotGuide review team recently had the chance to evaluate PurePressure's new Bruteless Bubble Hash Washing Vessels, available in 30 gallon (up to 5,000 grams fresh frozen material per wash), 44 gallon (up to 10,000 grams fresh frozen material per wash), and 65 gallon (up to 15,000 gram fresh frozen material per wash).
To get the full scope of what these units can do, we visited Kush Masters' extraction facility to experience a commercial bubble hash wash using the Bruteless. Even though we visited a commercial facility, it's important to note that the Bruteless Bubble Hash Washing Vessels are a great option for home use too, specifically their 30 gallon model.
Keep reading for an in-depth look at the Bruteless Bubble Hash Washing Vessels in action.
Functionality
The functionality of the Bruteless vessel is unlike any other product on the market. As with other popular PurePressure products, these units are purpose-built and designed with the cannabis industry in mind. Because of this, Bruteless vessels translate well on both the commercial and consumer ends of the spectrum. Since we only had the opportunity to experience a commercial wash, we'll walk you through the process to get a feel for the overall function.
To start things off, several thousand grams of fresh-frozen cannabis flower is gently placed in between two layers of reverse osmosis (RO) ice to cool down to optimal temperature before agitation.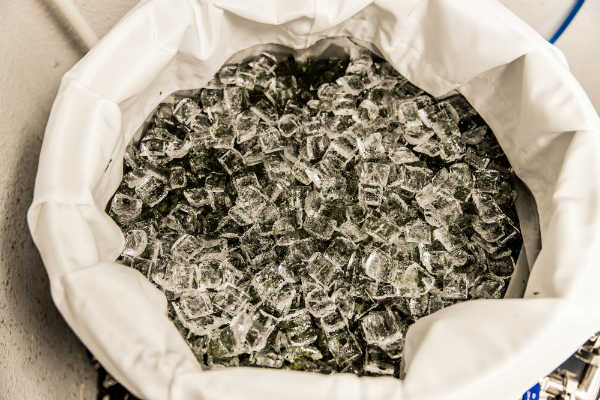 As mentioned above, the Bruteless vessel is wrapped in a cryogenic insulated neoprene sleeve that maintains consistent temperature for the contents within. Once the flower, ice and water mixture reaches optimal temperature, it is then gently agitated with a stainless steel and polyethylene washing paddle for a set duration.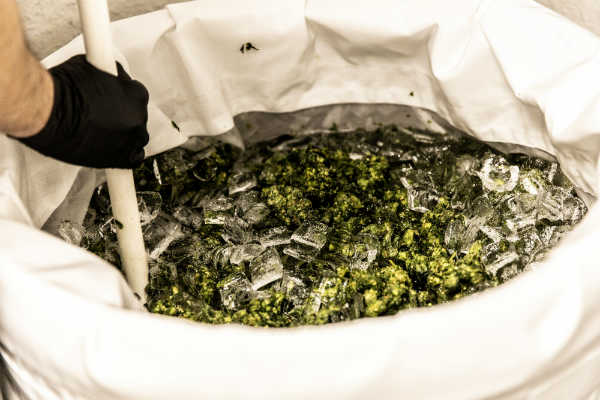 After the agitation period, the mixture is left to settle so that all of the broken off trichomes can fall through the false bottom and settle in an isolated state from the rest of the mixture. Allowing trichomes to settle helps keep them fully intact and preserve the resin in its "live," unaltered state. Without the viewing port, this really wouldn't be possible to refine to such an extreme capacity.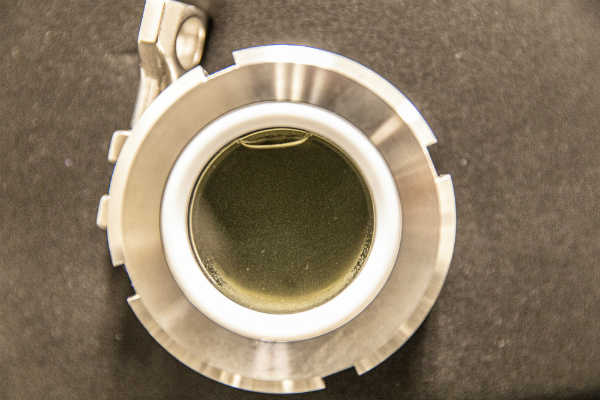 Once the trichomes have fully settled, the fun starts. Using the draining port of the main vessel, water is poured into the second collection vessel containing the micron bags. In this vessel is where the magic happens as trichomes are filtered based on size and purity throughout the various micron sizes of the different bags.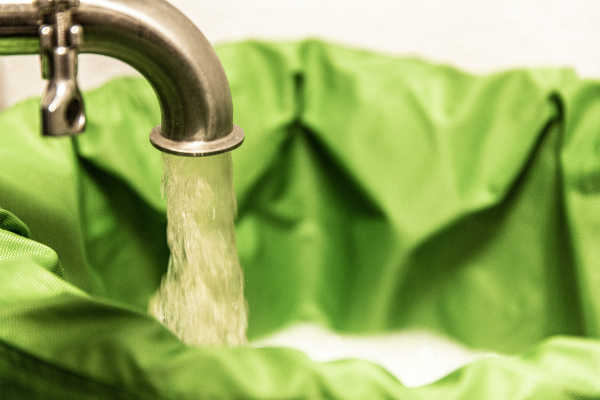 From here, it's just a matter of pulling the various bags out of the second vessel and transferring the collected trichomes from the bags and onto parchment paper. During this process, you can really see how efficient the Bruteless system operates. Water levels are shifted around several times to help reduce pressure when lifting bags from the second vessel. Additionally, the skim ports help remove chlorophyll-rich plant matter and water from the filtration process which helps encourage a cleaner final product.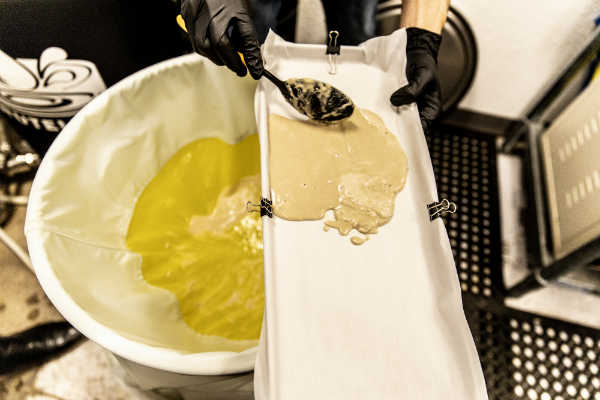 At the end of the wash, we were thoroughly impressed by the Bruteless system's function and throughput capability. The system cuts down wash time significantly and also uses less ice and water in the process. This adds up to more washes in any given day and increased capability to make and process solventless hash faster. This particular wash was prepped for pressing into one of Kush Masters' signature rosin products.
Ease of Use
When we got the inside scoop from PurePressure Co-Founder Josh Rutherford, he explained to us that the Bruteless was designed to take the "backbreaking" labor out of the bubble hash process. For anyone who's made bubble hash before, you know it can be a pretty arduous task. Having tried our hands at some hash-making in the past, we were really excited to see if the Bruteless could take some of the physicality out of the equation.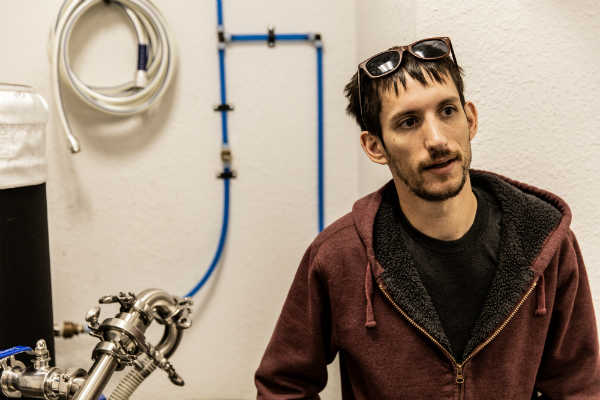 As we observed the washing process, it was evident that the Bruteless system allowed for superb water management. Using three Bruteless units of differing sizes in conjunction with one another, Kush Masters has a recirculating system set up known as the Bruteless Pro Hash Washing System. This means that they utilize the drain, fill and skim ports of three separate Bruteless vessels to conduct all of their hash washing with the same water. This eliminates the need to transfer water between vessels by hand and also helps capture every single trichome since the water never leaves the process.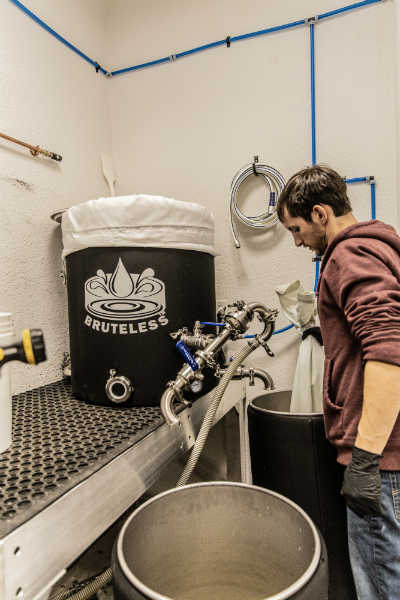 The beauty of the Bruteless' water management capability comes after the agitation period. With a three unit set up, you can wash your flower in the largest vessel, then drain all of the water and collected trichomes into a second vessel containing micron bags for filtering. With a third vessel, you are able to drain water from the second vessel to reduce the vacuum of pressure created by pulling your micron bags out of the water. What's even more impressive is that this all happens at the touch of a button with PurePressure's proprietary automatic system. Water is pumped seamlessly between vessels, allowing the extractor to customize water levels any way they please.
The three vessel operation is probably best suited for a commercial operation, however, home extractors can operate a one or two vessel system with similar functionality, just without the recirculating water pump mechanism. Even without the automatic pumping, the Bruteless still takes a significant amount of work out of the process based on its efficient design alone.
Appearance
Aesthetically speaking, the Bruteless employs a simple yet elegant design that is clean and consistent with other PurePressure products. Contrasting the black finish of the cryogenic insulated sleeve, PurePressure's trademark essential oil drip logo graces the front of the vessel in white.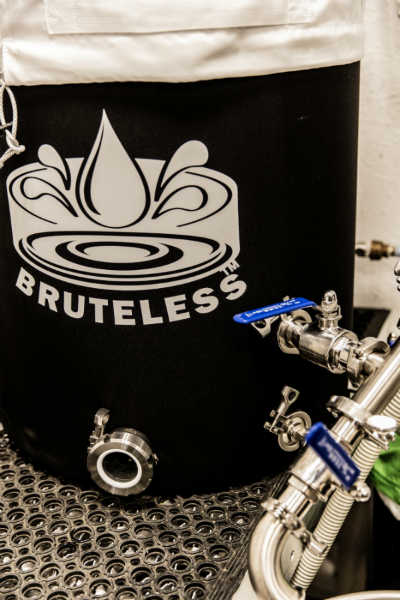 Additionally, all of the seals are sanitary welds that have been hand ground and polished to ensure that there are no crevices or small openings for plant matter and bacteria to get trapped in – an essential feature for anyone looking to run a clean, sanitary operation.
Some other features that we found intriguing include:
100% food-grade, FDA compliant stainless steel design
Dedicated ports for filling, skimming and draining
Removable aerated "false bottom" designed to house collected trichomes and provide a three-inch buffer between ice, bubble bags, and paddle-washing above
Sight glass/trichome viewing port that allows you to monitor your extraction and see trichomes settled underneath the false bottom
One-inch cryogenic insulated sleeve that allows the Bruteless to sustain optimal temperature (34°F) for at least 90 minutes without needing to add ice – said to reduce overall ice consumption by about 50%
The trichome viewing port really is something to behold, especially for hash connoisseurs and aficionados. Not only do you get to see your extraction happen before your eyes, but you can really notice the effect the false bottom has on protecting trichome heads and keeping them as pristine as possible before collection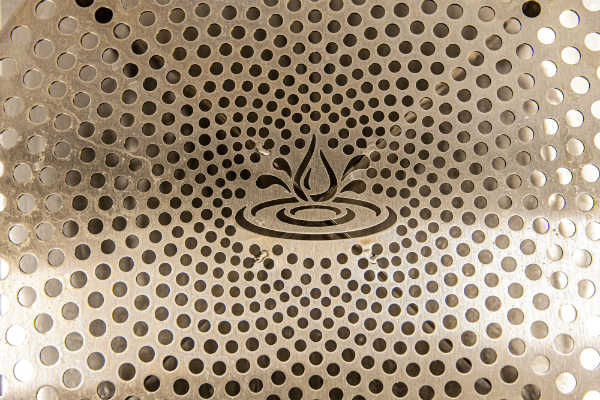 Mid-wash, the viewing port is full of action and swimming with trichomes, reminiscent of a freshly shaken snow-globe. However, this flurry of resin-rich particles visibly settles after a few minutes, leaving you with a clear view of the trichome-laden bottom of the Bruteless. We were all pretty excited to check out the viewing port in action and it certainly didn't disappoint.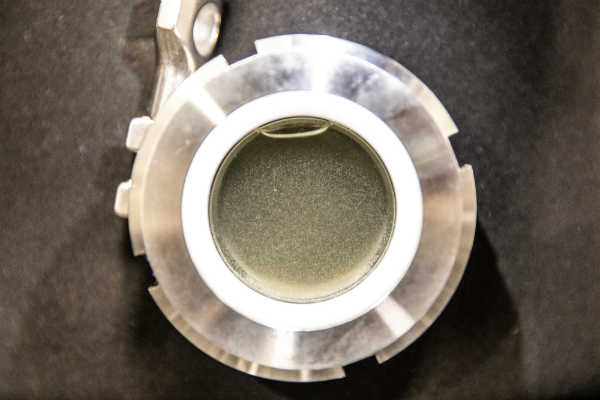 From a hash making perspective, the viewing port allows the extractor to see when all of the trichomes have properly settled at the bottom of the unit. Not only does this speed up collection time but also helps preserve the trichomes as much as possible throughout the whole process – a critical component to making high quality solventless hash.
Value
Owning a Bruteless is certainly an investment, however, the ROI potential is through the roof if you use the system to its full capacity. On a commercial level, the Bruteless can cover its own costs in a day or two. Honestly, for any processor that can keep up with the amount of flower the Bruteless can process, you're looking at some major output potential.
For at-home washers, the value is probably the best on the market if you're looking to make high quality solventless hash in the comfort of your own home. Sure, there are a few cheaper set ups to choose from, but none that allow for such a streamlined and integrated process. If you're serious about making solventless hash, the Bruteless is definitely worth considering. Plus, it's a great piece of equipment to use if you want to make rare solventless hash products or other preparations you can't find on dispensary shelves. It all starts with the finest bubble hash, and the Bruteless can help take you there.
Overall
At the end of the day, the Bruteless Bubble Hash Washing Vessels put up a strong argument for best solventless hash equipment on the market. The innovative design elements matched with purpose-driven functionality make the Bruteless a smart option for commercial processors and at-home enthusiasts alike. We can't wait to see what PurePressure comes up with next!
Click here to browse PurePressure Bruteless Hash Washers and accessories.
View All Product Reviews