Vail | Marijuana Travel Guide | Summer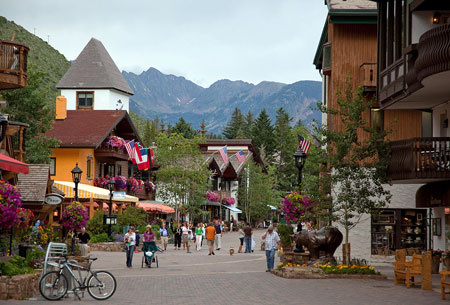 In Colorado, there's a popular saying: "You come for the winter but stay for the summer." Well, summer in Vail brings beautiful weather and an endless array of entertainment options, from outdoor adventure to cultural festivals. Just under two hours directly west of Denver, the small town of Vail is nestled at the foot of massive Vail Mountain. Summertime visitors enjoy hiking, golfing, and cultural festivals, along with breathtaking views offered by the majestic surroundings.
Unlike most other Colorado cities, Vail has held a moratorium on both medicinal and recreational marijuana before it was first approved by the state in 2012. That may all change this summer, though, as the city council is expected to give final approval for retail marijuana sales in town on July 7. That will allow merchandisers to apply for a license to open dispensaries within the city. Until then, visitors have plenty of purchasing options along the "Green Mile" -- a much more friendly mile than the one in the Stephen King novel (or Tom Hanks movie).
The "Green Mile" is a collection of cannabis dispensaries along a stretch of U.S. Highway 6 in Eagle-Vail that compete with each other for the highest quality, custom strains of cannabis in all forms, including buds, hash oil, edibles, waxes and various smoking paraphernalia. Remember to be discreet within the city limits until Amendment 64 is finally passed and you won't risk being harassed for consumption. That said, you'll find plenty of places to enjoy your Rocky Mountain high in the surrounding area.
What to Do
Hiking at Vail
Vail Golf Club
Hot Springs in Glenwood Springs
Where to Buy Marijuana
Because every city or county in Colorado is allowed to make their own marijuana laws, they can allow recreational stores -- or ban them, as Vail has done. As a result, the closest recreational dispensaries are located past Vail in Eagle-Vail/Avon along Highway 6, known as "The Green Mile."
Rocky Road Remedies
Where to Shop/Arts
Covered Bridge in Vail Village
Where to Eat
Blue Moose Pizza
Matsuhisa
Nightlife
There are really too many bars and restaurants within walking distance to list, but here are a few of our favorites.
bōl
Shakedown Bar
---
Other Travel Guides