Summit County | Marijuana Travel Guide | Summer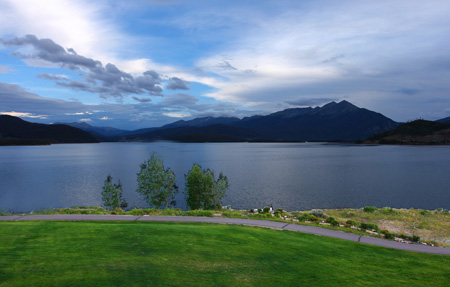 Known as "Colorado's Playground," Summit County includes the charming and inviting towns of Breckenridge, Keystone, Arapahoe Basin, Copper Mountain and Loveland – encompassing a little over 600 square miles in central Colorado. About 1 ½ hours west of Denver along I-70, Breckenridge is technically the county seat and the most popular town in the area, with about 3,500 of the county's 28,000 residents.
Having said that, all five towns offer incredible craft breweries and restaurants, shopping and plenty of other attractions worth spending a chunk of your summer in Summit County. A free countywide bus service stops at shopping centers, resorts and medical centers, and Breckenridge Free Ride is a city transportation service that will give you free rides around town.
Summit County is a treasure trove for outdoor enthusiasts, with four major ski resorts (Breckenridge, Copper Mountain, Keystone and Arapahoe Basin), that turn into awesome summer adventure areas as the weather gets warmer. About 80% of the land in Summit County is federal public land, giving you endless opportunities for outdoor recreation like hiking, biking, backpacking, fishing and kayaking. Don't forget about Lake Dillon and Green Mountain Reservoir, which provide ample space for many watersports.
Summit County also offers plenty of cultural and educational opportunities, including historical sites, to art and music festivals and summer farmer's markets. If you're more into relaxation, there are plenty of spas, theatre, music, and serene surroundings relax. Shop at some of the best stores in the mountains, take a spirited tour, puff some prime cannabis – all in one of the most beautiful places on earth.
What to Do
Alpenglow Adventures Train Tours
Blue Lotus Yoga
Where to Buy Marijuana
Breckenridge
Although Breckenridge has always been in the forefront regarding support for overall marijuana laws (both recreational and medical), all four shops have been pushed slightly north of the resort/downtown on Airport Road.
Summit County locals, who also happen to own the only grow operation left in Breckenridge, started Alpenglow Botanicals. Their comfortable shop offers more than 30 strains that are grown in smaller batches, ensuring that their customers get premium cannabis each and every time.

Breckenridge Organic Therapy is another locally owned dispensary that prides itself on quality bud and great customer service. Although on the smaller size, this shop is known in town for providing great prices for many pain management solutions.

Organix (Breckenridge, CO)

Organix is the only Breckenridge location to provide both recreational and medical marijuana to its customers. The shop is very open with beautiful wood floors, which paves the way for a continued positive experience with high-end bud and helpful budtenders. Check out one of their 20 available shelf strains.
Keystone, Arapahoe Basin, Copper Mountain & Loveland Ski Resort
There are no dispensaries in close proximity to these resorts, however a quick drive to Silverthorne/Dillon or Frisco (toward Breckenridge) will let you choose between five great options.
With 3 other mountain locations, this recreational and medical dispensary knows what they're doing. Often praised for their passionate and kind staff, you'll find over 50 quality strains and store hours that consistently stay open from 9am – 10pm.

This is Alpenglow's second location in Summit County. As with their other location, this team prides themselves on a one of a kind "Farm to Flame" experience, meaning everything is locally grown at 9,600 feet above sea level and is exclusive to their two shops.

Formerly the site of Herbal Bliss, Tumbleweed has opened their latest shop in the heart of Frisco. Conveniently located off I-70, Tumbleweed is a great stop before adventuring off into the mountains. 
Shopping/Arts
Gather another kind of green from 9 am to 2 pm on Fridays. This delightful open-air market supplies plenty of fresh produce, flowers, specialty foods, artisans, jewelers, textiles and more. More than 90 vendors make this one of the best markets in the Rocky Mountains.

Stroll along the scenic Blue River through three distinctive shopping villages, each with color-coded roofs – Blue, Red and Green. Get 30-70% off all your favorite brand names, from Columbia to Coach, and pick up a VIP savings card at the welcome center in the Green Village for even more discounts at over 50 stores. There are even student, teacher and senior discounts. At those rates, you could get a summer vacation wardrobe for close to free!

Explore your artsy side with this collection of studios, performance spaces, galleries, historic landmarks, art cafes and just about any other artistic venue. A wide variety of art mediums and styles are represented, including beading, painting, textiles, printmaking, glasswork, metal smithing, ceramics and so much more. Take classes, attend workshops and special events, or just wander through the decorative plazas and sculpture gardens as you enjoy the beautiful weather surrounded by wonderful art. It's heaven for your hidden artiste.
Breckenridge Creative Arts
Outlets at Silverthorne
Where to Eat
Find something to celebrate and take a night to dine in high style at this top-notch Victorian-themed restaurant in Breckenridge. Prepare to immerse all your senses in pure deliciousness, because everything here is the best, from the naturally raised beef and game to sustainably caught seafood, and it's artfully prepared. Choose from almost 200 wines from around the world, and indulge in a decadent dessert. Try the cake & shake: a 4-layer carrot cake (yum) and a Breckenridge Distillery bourbon-vanilla milkshake (double yum!) It's a little pricey, but it won't break the bank and it's worth the splurge. If you're on a strict budget, you can still get a taste of fine dining at happy hour 4-6 pm in the lounge or on the deck. $5 small plates will satisfy munchies, $3.50 Colorado microbrews will help keep you cool, and $7 cocktails or $9 martinis can make the views even better.

This place is small with only seven tables, but the food is really good and it's probably the best place you can go if you have any kind of food allergies or strict diet. All the food is gluten-free, and there are many vegan and vegetarian options to choose from. The Indian-themed dishes are deliciously spiced, prices are good and the wine list is great.

A great place to get your grub on after the morning wake and bake, this place serves breakfast and lunch from 7 am to 3 pm. Get fueled up for the day with a hearty breakfast or take a break from your activities and grab a grass-fed, all natural, hormone-free burger for lunch. Take a tip and build your own burger special on Tuesdays.
Nightlife
The Bakers' Brewery
Motherloaded Tavern
---
Other Travel Guides