Thursday May 2, 2019
By Erin Hiatt
Health/Science
In a recent survey conducted by the National Restaurant Association, survey takers were asked to name their top food and drink trends for 2019. Seventy-seven percent of respondents chose CBD drinks as the number one trend, followed closely by CBD food. It's true, thanks to the passing of the 2018 Farm Bill (and growing CBD interest over the past 5 years or so), more and more products containing CBD are emerging in the mainstream. But believe it or not, CBD in food and drink is not technically legal.
The FDA's Stance on CBD
Even though the passage of the 2018 Farm Bill legalized hemp as an agricultural commodity, outgoing Food and Drug Administration (FDA) Commissioner Scott Gottlieb issued a statement on the day the Farm Bill was signed that asserted the agency's authority to regulate cannabis products, specifically CBD.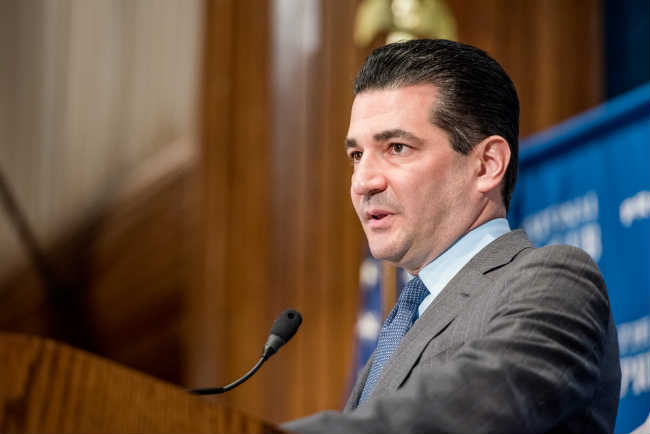 Outgoing FDA Commissioner Scott Gottlieb made it clear that CBD in food and health products falls under FDA jurisdiction.
photo credit
Nonetheless, mainstream drugstore retailers like The Vitamin Shoppe, Walgreens, and CVS, have indicated that their shelves will soon be stocked with CBD products like gummies, tinctures, and topicals. Many restaurants and bars in New York City were enjoying robust CBD up-sales until the city Department of Health put on the kibosh last February.
When it comes to CBD, the FDA is on their back leg, as regulations have yet to catch up with market demand. But that may soon be changing. On April 2, Gottlieb released a separate statement, laying out a path forward to evaluate the regulatory way forward for hemp-derived CBD products. Here's what the FDA will do:
Next Steps for FDA and CBD:
The FDA will form a "high-level internal agency working group to explore potential pathways for dietary supplements and/or conventional foods containing CBD to be lawfully marketed." This agency will also evaluate what regulatory changes will be needed and how the marketing will affect public health
Warning letters to CBD companies will continue to be issued when they claim to prevent, treat, or cure diseases, make unsubstantiated claims, or sell tainted or inaccurately labeled products
A webpage dedicated to frequently asked questions will be maintained by the agency to increase public understanding of the FDA's requirements for regulating CBD
A public hearing will be held on May 31st in Silver Spring, Maryland. The hearing, which the FDA indicated will be an important step in their evaluation process, is intended to "obtain additional scientific data and other information related to cannabis and cannabis-derived compounds, both from botanical and synthetic sources, to inform our regulatory oversight of these products."
After the May 31st hearing we should have a much better understanding of the FDA's roadmap for regulating CBD down the road. Until then, many CBD suppliers are continuing business as usual.
Issues with Regulating CBD
Regulating CBD in a way that benefits consumers is complicated for a couple of reasons. There is continued confusion between CBD derived from marijuana – which is not under consideration in this evaluation process – and hemp-derived CBD, which, theoretically, should receive all the benefits and protection of the 2018 Farm Bill.
The other complicating factor is Epidiolex, an FDA-approved, CBD drug for the treatment of seizure disorders Dravet Syndrome and Lennox Gastaut Syndrome. Gottlieb indicated that Epidiolex has complicated the CBD regulatory process, but that the public hearing will be useful to discern a different route to regulation.
As a CBD consumer, you can make your voice heard by registering a public comment as part of the regulatory process. These submissions will be accepted until July 2. The FDA is interested in hearing input about CBD safety concerns for specific populations, like pregnant women, or children, for example. They would also like to hear comments about drug interactions, manufacturing, marketing and labeling standards, and maximal daily dosing.
For those waiting to see how the FDA will come down on CBD guidelines for food and drink, don't hold your breath. A comprehensive set of regulations may not emerge for a few years. In the meanwhile, restaurants, food manufacturers, and others will probably continue to add CBD to their offerings, while crossing fingers for the FDA to look the other way.
---
Do you think CBD should be legal in food and drink products? Why or why not? Share your thoughts in the comments below!
Photo Credit: The U.S. Food and Drug Administration (license)