Friday April 26, 2019
By Erin Hiatt
Travel
In July 2017, when Nevada opened the doors to its legal, adult-use cannabis market, record sales (Las Vegas entertains more than 40 million tourists per year) in addition to some early distribution issues led to a price increase of 200 percent. In addition to incredible demand, a paucity of cultivators and a shortage of supply caused legal establishments to raise their prices. It's true, cannabis prices in Nevada were pretty high from the start. The question now is whether or not the cost of marijuana in the Battle Born State has gone down or remained the same. Let's take a closer look!
Current Commercial Cannabis Prices in Nevada
A high price for cannabis in a newly-legal market is nothing new, but almost two years in, Nevada still has the highest cost per gram for flower, concentrates, pre-rolls, and vape pens. On the other hand, Washington has an oversupply problem, making legal cannabis in the Evergreen state the cheapest of the early legal states (Colorado, Washington, and Oregon), even with its 37 percent tax rate. Too much weed is not necessarily a good thing and can put cultivators out of business.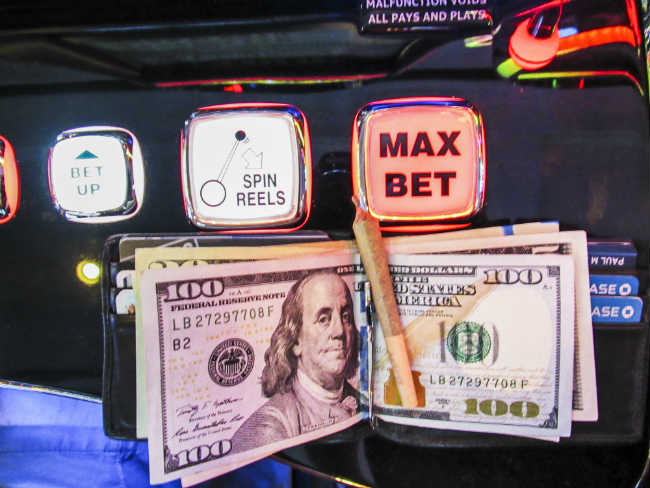 Despite starting legal sales nearly 2 years ago, Nevada still has the highest cost per gram.
photo credit
Leaders in Nevada's cannabis industry have indicated that the price of cannabis could come down, if a few things happen. John Mueller, CEO of Acres Cannabis, told a gathering of the Las Vegas Medical Marijuana Association, "We charge way too much money for this stuff. It's going to come down." Mueller added that 42 additional dispensaries are expected to open in 2019, taking some of the strain off the current operators. Growers in the Silver State are also building out their cultivation facilities and streamlining grow methods which, for the time being, will allow Nevada to meet demand without growing too much supply.
What About Wholesale Cannabis Pricing?
Even though cultivators are refining methods and learning how to produce large amounts of cannabis for the cheapest cost, wholesale cannabis prices in Nevada remain high, as opposed to other legal states whose wholesale prices post-legalization have dropped. Marijuana Business Daily reported that the "fair market value per pound of whole flower – a metric used by the Nevada Department of Taxation to levy taxes on the state's marijuana growers – has jumped more than $650 from July 2017 to July 2018, a 30 percent increase."
This increase parallels incredibly high demand for cannabis in Nevada, more than analysts anticipated. In the first five months of 2018, legal marijuana sales neared $38 million a month, a 16 percent increase from the $32.6 million average in 2017.
There are factors other than high demand and an initial market launch undersupply that could be keeping cannabis prices high. Even Cannabis Company CEO Alex Tacracki told Marijuana Business Daily that some additional challenges facing the market are cultivation facilities stymied by heat (temperatures in Nevada can reach 120 degrees in the summer) and humidity, as well as strict testing standards that are slowing supply at the retail level.
Will Nevada Cannabis Prices Decrease?
Even though the price of cannabis in Nevada remains rather high, across all categories, the most expensive cannabis is in California, where the average item price is $30.90. Nevada was second, at $26.94, followed by Oregon, then Washington. When it comes to non-inhalables, like tinctures, capsules, topicals, and edibles, Nevada's average price was still higher than California, Washington, and Oregon per milligram, but it does has the lowest price for tinctures.
Mueller of Acres Cannabis said the real break for cannabis prices in Nevada may have to wait until the plant is removed from the list of controlled substances, where cannabis sits alongside illicit substances like heroin and bath salts. As for Taracki, he would like to see testing regulations eased. Until one, or both of those things come to pass, weed in Nevada will continue to cost a pretty penny.
---
What are your thoughts on the price of cannabis in Nevada? Share your input in the comments below!
Photo Credit: VaporVanity.com (license)