Wednesday January 5, 2022
By Paul Barach
420 Culture
Cannabis and comedy have always gone hand in hand, from writer's rooms to the comedy stage. With recreational legalization spreading across the states, it was only a matter of time before stand-up comedians like Seattle's Tyler Smith started combining the two.
Tyler Smith is the founder and host of The Dope Show. This popular marijuana-themed comedy show, currently nearing its 200th performance across the United States and Canada, brings together both nationally-touring and local comedians, gets them real stoned, and lets the audience experience the hilarious, unpredictable results.
With the Dope Show coming to Denver's Bug Theater on January 15th at 7:30pm (Tickets Here), PotGuide sat down with Tyler Smith to learn more about what it's like being a professional stoner comedian.
What is The Dope Show?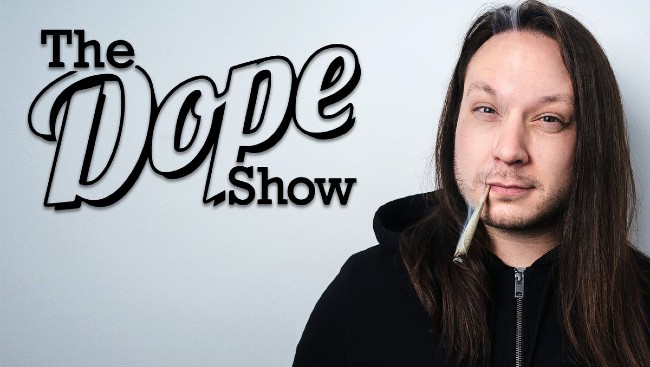 The Dope Show was created by Tyler Smith with the goal of bringing cannabis and comedy together.
Photo Credit
It's a stand up comedy showcase where comedians do a set, then go backstage and get super high, then they attempt to perform more comedy after the fact. There are no guarantees on how that second set will go, but that's part of the fun of The Dope Show.
What makes weed and comedy such a special combo?
Marijuana has a way of making people laugh a little more. It can loosen up the giggles. It's great because it relaxes people in a way so that [the comic] may say or do something [on stage] you might not have ever expected, and the audience is right there with them. That's what makes it so great to have a marijuana-themed comedy show.
When did you get started in Comedy?
It was 2009, I'd just graduated college, and had nothing really going on. I just wanted to build my self esteem. I'd always thought it was fun, so I just wanted to give it a try, see if I could make people laugh.
Were you high your first time?
It'd be hard to say that I wasn't high my first time since it was after 7:00pm (laughs). But not noticeably, I'll say that.
What's your favorite thing about comedy?
My favorite thing about comedy is that it brings everyone together in a happy moment. I like that you can tell when a comic is doing well because the whole room is laughing. It's just a hard feeling to describe. It feels like a unity between everyone. We forget our differences for a bit and just enjoy ourselves. I love that stand-up comedy is the great uniter.
What's your favorite thing about weed?
I was always kind of an introverted kid, and weed made me able to relax and be myself: a goofy, extroverted individual.
What's your favorite strain and why?
Bubblegum Kush. I love the "social high" of it. It makes you wanna talk and joke around.
How'd you get started in the weed business?
After college, one of my first jobs was making edibles for a local medical cannabis dispensary. That was my start in the business. From there I bounced around all over medical, doing trimming, growing, until I got into budtending and became a manager of a store. That's when I got introduced to the "business" side of the weed business…By then I'd started doing marketing and promotion for my own comedy shows for years, so I had a lot of practice by the time I started marketing The Dope Show. Those marketing skills got me noticed by a CBD company, who asked me to become their marketing director. Now I'm the marketing director for a cannabis software company, so I've kind of been in the industry my whole working life.
What's it like hosting a weed themed comedy show? What are the audiences like?
For the most part, the people who go to my shows don't normally go to comedy shows. I feel that The Dope Show's formula intrigues people enough to where they're like "Yeah, I'll leave my house to go see something I'd never see otherwise, because I want to see what happens." So it's a lot of people that are into marijuana, and a lot of people that are into comedy, and a bunch of people who just want to see what's gonna happen on stage when comedians get hella stoned and try to do comedy afterwards.
Any funny stories?
Everyone has a different tolerance to marijuana so it's kind of anything goes. The first couple shows we didn't really have our formula locked down so some comedians passed out. A few comics have fallen asleep and had to be woken up for their second set. There are comics that have been so scared by stage fright [on their second, stoned set] that they've run away…That's happened twice…oh, wait, no, that's happened three times (laughs).
But those aren't the worst reactions that have happened. There's been giggle attacks onstage where a comedian couldn't finish and we just had to take them off the stage. But there's times where a comic is so stoned that they can't connect thoughts anymore…and we just leave them onstage until they finish their time, because that's what the show's about. Sometimes it's the most fun for the audience to watch them squirm.
Do you do giveaways?
Sometimes. It all depends on the city. You'll have to read the event description to find out. [In past shows] we've given away over 50 bongs, probably over $5,000 worth of glass. There's been party buses that give out free stuff. There's always plenty of souvenirs at each show and merch for sale.
How does the Dope Show support local comics?
The way the show works when we're on tour is that I bring along an incredible headliner that could sell out the room themselves (like Kelsey Cook, Lochlan Patterson, and Jessie May Paluso) and then I work with local acts to so they can get in front of larger crowds who may have never seen them before. [My hope is that] those audience members who don't usually go to comedy will see those local comics and like them enough to go to another show that they're on here in town.
Who's performing at the Dope Show here in Denver?
Our headliner is Big Irish Jay (Fox, Spike TV, All Def Digital), and two local Denver comics: Matt Kobos (High Plains Comedy Festival) and Georgia Comstock (Phone It In Festival).
Anything else you want us to know?
One of the important things about the Dope Show is that it's produced by comedians, for comedians. We're always trying to promote and support the local scene in every city we come to. We also reach out to local dispensaries to help them promote their businesses at our show. It helps to normalize the experience of cannabis and hopefully raise everyone's profile. So please come out to the show. It's gonna be a hella dope show.
Thanks for talking with PotGuide. See you at The Dope Show!
The Dope Show is coming to Denver's Bug Theater on January 15th at 7:30 PM. Tickets available HERE.
---
Who are your favorite weed comics? Share in the comments!
Photo Credit: The Dope Show (license)