Sunday June 17, 2018
By Erin Hiatt
420 Culture
Recreational cannabis use is now legal in several states across America, and more than 30 states have legal medical marijuana in some form or another. Despite this profusion, it is still unclear whether a renter can use cannabis on leased property.
Adding to this confusion is whether these rules could apply to non-smokable forms like edibles, tinctures, and topicals, and if federal law, where all cannabis is illegal in any form, takes precedence over legal state statutes.
Home Grows
Simply put, in states that allow for at-home cultivation, a landlord must prohibit growing pot as a clause in the lease. Home selling and rental site Zillow writes, "If the issue comes up after the lease has been signed without such a clause, the landlord would likely need to rely on an anti-drug or crime policy that hopefully was included in the lease."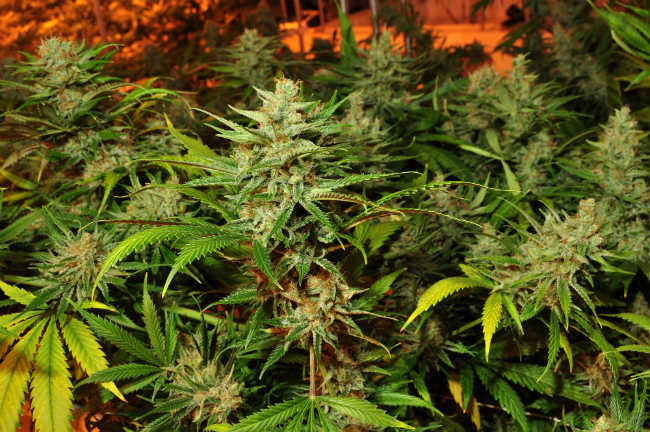 It's always a good idea to talk to your landlord about cannabis cultivation before moving in.
If the tenant were to violate the lease clause prohibiting home grows, the landlord would then need to send written notice. If the tenant continued to grow cannabis at home after receiving written notice, the landlord could then move to evict the tenant.
Because of the sometimes questionable nature of growing cannabis within a leased property in a legal state, it's always best to be upfront with the landlord to avoid any mishaps down the road.
There are many landlords who are not concerned with cannabis and allow tenants to possess, consume and grow it within their rental so long as their following state laws. Conversely, some landlords are very much against cannabis and side with the federal government when it comes down to brass tax.
Why Landlords Are Concerned
Landlords in Canada, where legal cannabis markets are set to open in the summer of 2018, have several concerns about home grows and at-home cannabis use, including the use of hazardous chemicals like pesticides, safety hazards due to a strong reliance on electrical systems, mold-causing humidity, financial liability to the landlord and owner, and strong odors seeping to other units.
However, there are some businesses using legal cannabis as a selling point as some canna-tourists or medical marijuana refugees move to other states to take advantage of recreational or medicinal cannabis markets. Landlords who choose to prohibit cannabis tend to apply the same tactics used with cigarettes and cigars, and this is usually included in the lease agreement.
Many insurance policies typically include "illegal act exclusions," where they are not required to cover damages done during illegal activities. So, even if cannabis is legal in your state, some landlords may be reluctant to rent to people upfront about their cannabis usage due to its federal illegality.
Every State is Different
In Massachusetts, landlords can ban through lease agreements smoking and cultivation of cannabis but cannot prohibit non-smokable cannabis consumption, like edibles and vaporizing. Michigan law states that landlords are not required to lease to anyone smoking or growing at home as long as it is clearly stated in the lease, and in Rhode Island, landlords cannot penalize or refuse to rent to a medical marijuana cardholder.
Ultimately, it is up to the landlord to have a full and clear understanding of state laws and to iterate them clearly in lease agreements, and it is up to the renter to know which forms of consumption are allowable on site.
What if I Have a Medical Marijuana Card?
A tenant could credibly argue that not being able to use or grow medical marijuana could violate their rights to receive "reasonable accommodation" according to the Americans with Disabilities Act of 1990. However, a few prominent legal cases have come down firmly against such an argument.
In the California case, Ross v. RagingWire Telecommunications, the state supreme court ruled that even though Prop 215 made medical marijuana legal, the Fair Employment and Housing Act "does not require employers to accommodate the use of illegal drugs," and that California's medical marijuana law does not give a person "a right to use marijuana free of hindrance or inconvenience, enforceable against third parties."
Not every state honors cultivation laws for medical marijuana patients who rent properties.
The United States Supreme Court ruled in 2005 against Oakland California-based Angel Raich, a severely ill medical marijuana patient who had her cannabis seized and destroyed by federal agents. In this instance, the court held that the Commerce Clause has the power to regulate the use of marijuana home-grows in states where medical cannabis consumption is legal.
So, being a medical marijuana patient, regardless of severity of condition, is no guarantee to use or grow cannabis on any rented property unless explicitly agreed to in the lease agreement.
Location, Location, Location
A tenant could complain to a landlord that because cannabis is legal according to state statute they should be allowed to smoke, but the answer depends on the lease agreement. A landlord can prohibit cannabis smoking just as they can prohibit tobacco and cigar smoking on site, as long as it is stated explicitly in the lease. If it is not, the landlord would need to work with the tenant to come to an agreeable solution.
What state cannabis laws generally allow is for individuals to use or grow cannabis in the privacy of their own homes. However, many people do not have access or resources to own private property. In the meanwhile, it is up to landlords to be legally proactive and state their cannabis regulations clearly in lease agreements, and up to potential renters to ask what kind of cannabis consumption, if any, is allowed on-site.
---
What are your experiences with landlords and cannabis? Share them in the comments below!
Photo Credit: Rental Realities (license)