Monday May 23, 2022
By Erin Hiatt
420 Culture
Was it George Harrison who sang, "Here Comes the Sun?" After a long, cold lonely winter, states across the country are easing COVID restrictions and flowers are popping out to greet Spring. Cannabis enthusiasts are likewise ready to commune for cannabis festivals, cannabis bashes, and cannabis-friendly concerts to enjoy a joint with like-minded folks.
There is a rich history of cannabis festivals in the U.S., most of which started out in the era of cannabis prohibition (which many states and our country as a whole still live in) as Protestivals. Seattle's HEMPFEST is one of the longest running and more famous gatherings that began as a smoke-in in 1991, but it is just one among many, including the Boston Freedom Rally and Denver's Mile High 420 Festival.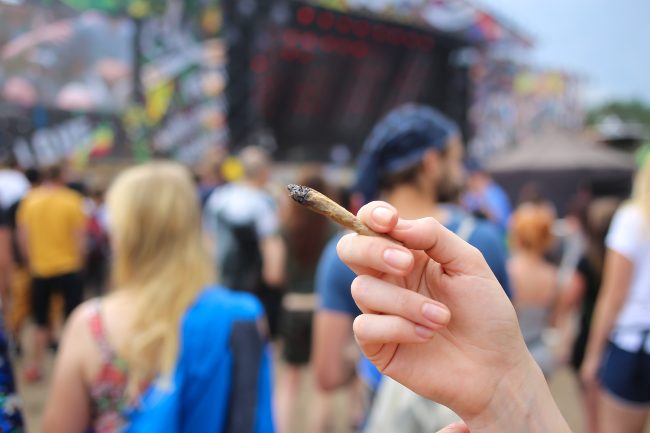 There are many cannabis festivals and music festivals around the US for weed smokers to attend.
photo credit
As more states legalize, decriminalize and the weed stigma fades, public cannabis consumption has expanded beyond the boundaries of a smoke-in. Let's take a look at some upcoming cannabis fests and other sweet spots to enjoy your legal weed.
Cannabis Festivals on 4/20
To get my finger on the pulse of cannabis happenings, I turned to Celebstoner.com, created by former High Times editor Steve Bloom, a website dedicated to all things canna-culture, specifically music, movies, sports, and happenings. His list of cannabis-oriented events is comprehensive, with dozens and dozens compiled for the stoner holiday 4/20 alone.
Yearly Cannabis Festivals on 4/20:
420 Fest in Miami, Florida
4:20 on the Rocks at the Red Rocks Amphitheater in Morrison, CO
420 Outdoor Festival in Detroit
420 Reggae Fest in Newport News, Virginia
Stoner Fest in Atlanta
420 Hippie Hill in San Francisco
Other Cannabis Friendly Festivals
Of course, the other 364 days of the year aren't 4/20, and there are plenty of festivals and events that, if not specifically cannabis-oriented, are at least cannabis-friendly. Outdoor concerts, in particular, can be a great match for weed lovers.
Here are some other events happening all over the country to keep an eye on:
National Cannabis Festival in Washington, D.C.
This D.C. festival started in 2015 and celebrates the legalization of marijuana in D.C., as well as the progress in marijuana legalization throughout the United States. Featuring a "munchie zone" with food and drink vendors, concerts, group yoga and educational panels on growing, this is a must-see event if you're in the DMV area.
Hash Bash in Ann Arbor, MI
This Ann Arbor, MI event started in 1972 after cannabis activist John Sinclair was released from jail after being detained for 2 joints. The law that sent him to jail was deemed unconstitutional, and this move resulted in there being no law banning marijuana use until after that weekend. Hash Bash now occurs every first Saturday in April at the University of Michigan Diag and features speakers, vendors and lots of weed smoking.
The Governor's Ball in NYC
New York City's top music festival is a hot-spot for stoners and non-stoners alike. With past headliners including Billie Eilish, Drake and Kanye West, this is the place to be. There's tons of food and beverage vendors, immersive art and fun surprises waiting for event-goers.
Dazed on the Green in Turlock, CA
This 2022 event promises to be Central California's largest music festival and cannabis expo. Kicking off on September 17th, this 2 day festival will have cannabis vendors, as well as three music stages including a main stage, reggae stage and metal stage.
Roots Picnic in Philadelphia, PA
Created by hip-hip group The Roots, this music festival has been around since 2008 and features some of the best names in hip-hop including Mary J Blige, Jazmine Sullivan and Summer Walker for the 2022 festival.
Sweetwater 420 Fest in Atlanta, GA
This annual event is hosted by Sweetwater Brewing Company and takes place on whatever weekend is closest to Earth Day. Founded as an environmental celebration, this festival has donated over $100,000 to local environmental charities and features a "420 eco-village" focusing on all things sustainability. The festival has featured artists like The Avett Brothers, Snoop Dogg, Cage the Elephant and Sturgill Simpson in the past.
Sound on Sound Festival in Bridgeport, CT
From the organizers of The Governor's Ball comes the inaugural Sound on Sound festival from September 24th to 25th. This two day event boasts performances by Stevie Nicks, The Lumineers, Dave Matthews and more. Taking place at the beautiful Seaside Park in Bridgeport, definitely check this one out if you're in New England!
Lollapalooza in Chicago, IL
This Chicago festival has been around since the 90s and is still one of the most popular music festivals around. Listen to music at one of 9 stages, grab some local grub from Chicago vendors and toke up with your friends.
Reggae Rise Up Music Festival
What better way to celebrate cannabis than with a reggae festival?!
Whether you like reggae, rock, pop or country, there's a music festival for you happening this year.
photo credit
This festival started in St. Petersburg and has made its way to Baltimore and Las Vegas. Check out the art installations, multiple concert stages and enjoy the vibes.
Northlands Music and Arts Festival in Swanzey, New Hampshire
This summer event's music lineup includes genres from jam to rock to blues, and even features a band called The Trichomes. We'd say that's worth checking out!
While this list is not exhaustive, it is a mere sampling of all the events coming up soon. Where will the rest of this year take you?
Frequently Asked Questions
Where is the Biggest 420 Celebration?
Tough call. There are a few historic 420 celebrations that bring massive crowds, including 420 Hippie Hill in San Francisco and the Mile High 420 Festival.
What is a 420 Friendly Trade Show?
There are many 420-friendly trade shows, including the Cannabis Wedding Expo, NoCo Hemp Expo, the Cannabis World Congress and Business Exposition in NYC, MJBizCon, Hall of Flowers, and many more.
Is 420 Celebrated Worldwide?
While not an official holiday, cannabis lovers across the world celebrate the day, with large gatherings happening in the U.S., Australia, London, Amsterdam, and Stockholm, among others.
Where is the 420 Festival in Denver?
420 Fest was held at Denver's Civic Center Park in 2022.
What's your favorite festival? Is it on the list? Let us know in the comments!
Photo Credit: Shutterstock