Wednesday June 27, 2018
By Andrew Ward
News
The North American cannabis market is booming and is only expected to get larger in the coming years.
With the U.S. market set to triple by 2025, and Canada projected to reach $9.2 billion that same year, all eyes are on North America's markets and buyers. But what are the differences between these two giants? With Canada legalizing marijuana nationwide, many people are wondering how the U.S. will respond. One thing is for sure, each country's respective cannabis industries are growing rapidly. Let's take a look at some of the key differences in cannabis consumer trends between the two.
Comparing US and Canadian Cannabis Consumption
Recent data from BDS Analytics shows that marijuana consumption across Canada and the U.S. is quite similar. In both nations, inhalable cannabis products dominate as the preferred method of use. Roughly 75% of both markets prefer to inhale their cannabis, with edibles (20%) and topicals (4%) trailing far behind in the second and third positions. It should come as no surprise that consumers like to pair their cannabis most often with music, movies, snacks and other treats. However, exercise ranks close behind and higher than pairing with alcohol or fine dining.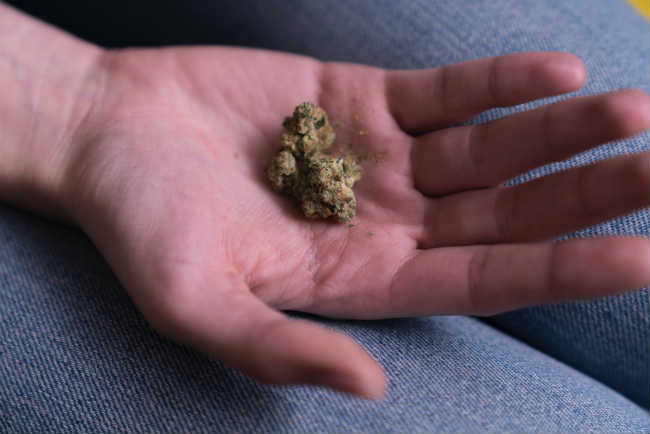 Inhalable forms of cannabis, like flower, are some of the most popular products on the market in both the U.S. and Canada.
photo credit
Linda Gilbert, Managing Director of Consumer Research for BDS Analytics, told PotGuide about the current Canadian market projections. She pointed to current restrictions placing a limit on the market's growth potential. "From a consumer market point of view, we see that the status of legalization and how mature that status or market is has a lot of impact on consumer attitudes and beliefs, and to some degree, practices." She elaborated, "...We would compare Canada to more of a level two or level three state here in the United States where there's medical that's legal, but there are still limitations on availability," citing edibles being banned in some states and, for the time being, Canada.
The Average Cannabis Consumer is How Old?
BDS's findings revealed that the average cannabis consumer across Canada and the U.S. was 40 years old. With such a broad customer range, standout pieces of data like this are waiting to be uncovered. When discussing parental usage, Gilbert pointed to a fact that she hadn't anticipated. "I would have thought, 'well yeah some moms use cannabis.' I would have never expected that moms with younger children, under 10, are the most likely to use."
The average consumer age increase could also lead to a changing dispensary staff to better relate to consumers. Gilbert points to a significant lesson in the cosmetics industry she learned years before. "...When you go into an expensive department store to buy your makeup, you don't want a 20 something-year-old girl telling you how to take care of your 50-year-old skin." She added that the same could occur to decades old users interacting with relative new consumers as their budtender.
Budtender relatability could be a driving factor in a dispensary's consumer popularity.
To Gilbert, a dispensary's success could be in relatability. "I think dispensaries would be well served to look at where they're opening their stores so that they're locating across where their desired demographics, socioeconomics, and so forth are, and then having the people in the stores reflect those." She added that the eventual evolution of a community's cannabis consumer would start to look more like its general population as time goes on.
A Move Toward Purpose-Driven Consumption
The average consumer's age represents a growing number of patients focused on purpose-driven consumption. In this case, purpose applies to the medical application of the product, rather than the company's social impact. Gilbert believes that this market maturation will further in the coming years as patients come around to treating their conditions with cannabis. She projected that the movement should start with more serious conditions before moving into becoming part of a consumer's self-care routine for less pressing conditions.
Today, 44% of American cannabis users consume for health or medical reasons, while 39% of Canadian users do so. In both cases, people want more information and validation before supporting medical cannabis or using themselves.
Rob Adelson, CEO of Canada's Resolve Digital Health, hasn't seen that reluctance in Canada himself. He cites the Canadian government's standards for helping shape market confidence. "The government put together policies and standards in place, and it's very well done. The standards are leading in the world right now." Though, Adelson did cite a lack of physicians educated on the subject as a current barrier to more interest and use.
When discussing purpose-driven consumption and the recent rise of microdosing, Adelson chose to use another term. "For [Resolve Digital Health], the idea of a microdose doesn't really make sense," he explained. "There's a therapeutic dose. There's a specific dose that's right for a specific person for a specific goal they have. Just having a smaller dose doesn't make sense in a therapeutic environment."
Future of North American Cannabis Market
The evolution of the cannabis market in North America and beyond could be unlike any other industry before. That isn't hyperbole, either. After looking at the most recent findings, Gilbert considers herself a believer in such a possibility. After working on the evolution of the healthy food movement, she now hears similar questions pop up in cannabis. She said she thinks pot is going to make healthy foods "look small-time."
Many consumers are turning to cannabis products as a legitimate form of medical relief.
photo credit
Both Gilbert and Adelson see a trend in more people not looking to be stoned but instead receive treatment for their conditions. Adelson made examples of parents looking to have their severe pain managed best during dinner time hours so they can play with their kids and cook a family meal. With his company's technology and volunteer data from users, its products can provide accurate insights and treatment options for patients and their doctors.
Gilbert also sees more technology and scientific evolution around hot topics including CBD and other non-psychoactive options. Overall, she finds herself at a loss when searching for a comparable industry to cannabis and its users. "...Cannabis is really unique in that from the consumer's purposeful consumption aspect; it spans everything from recreational to personal health care to serious medical applications." She added, "Nothing else does that. You might say you drink red wine because it's better than other alcohol choices, but you don't say I drink alcohol for my health. That would not be accepted."
Across North America, cannabis is flourishing. If trends continue to play out, the boom could reach Mount Pinatubo levels in less than ten years. Isn't evolution a beautiful thing?
---
Where do you see the cannabis industry headed next? Will the U.S. follow Canada's legalization efforts?
Photo Credit: Sharon McCutcheon (license)