Wednesday November 25, 2015
Updated on 8/2/2021
By Tyler Terps
420 Culture
Vape pens are some of the most discreet options for cannabis consumption, and are growing in popularity as a result. More and more consumers are choosing vape pens for their subtle approach to getting high on weed. But what is vaporization? And why do so many consumers resonate with this method? Keep reading to learn more about vaping and uncover some of the best cannabis vape pens on the market.
What is Vaping
Vaporizing is an alternative way to enjoy cannabis without the need to burn it to receive the benefits that it provides. In the case of cannabis concentrates, dab pens are a huge market, especially in legal areas and places where there's a lot to be consumed. The efficiency for getting high actually increases as there is no combustion when you're vaporizing. Discretion is never in question when using a vaporizer, because a majority of people just assume that you're using an electronic cigarette when, in reality, you're getting your daily serving of THC and CBD. If you're headed to a legal state for vacation, a dab pen is a great option for enjoying the extracts you get to try out there.
If you're shopping around, you'll find that buying a disposable pre-fill or cheap atomizer pen at the dispensary will get the job done, and don't worry about losing your vaporizer because most are not meant to last. More expensive options use replaceable parts to give you the option of using your pen after the vacation. Usually an atomizer can be swapped out, taking all of the residue out of the equation when headed home. Here are some of the different types of pens and some of the most popular products on the market.
Portable Vape Pens - Different Types
The type of dab pens that are out there suit the needs of different people. For some, vaporizers need to hit hard since it's their only way to enjoy their medicine. For others, they only need something to hold them over until they get to a dab rig, so they're not always concerned if it's going to hit hard.
Gpen
The G Pen and Cloud Pen style vaporizers are perhaps the most well known pens because of their popularity in head shops and online stores, as well as their approachable price points. These small oval shaped pens are convenient and small enough to be considered discreet. There seems to be several different companies making this style unit, but G Pen offers their baseline model for around $60.
Globes
Globe mouthpieces give off the feel of ripping glass without taking up the space on the table. These attachments allow for vapor to build up and eventually cleared out by inhaling through the top. Many companies make these accessories for their vape pens, but it's important to get one that's well designed.
Hookah Pen Lookalikes
If you're very concerned about discretion, look for a vaporizer that resembles something that doesn't look like your average one. This way, people won't think that you're medicating when you're out in public. If it looks like a hookah pen, you most likely won't be questioned about what you're doing with it at all. Don't be stupid and take advantage of this product's inconspicuous features, but enjoy going incognito when you need it most.
Full On Metal
If you're the type of person that break things very easily, getting a vape that's constructed of full metal will prevent it from breaking on your first or second drop. Although it may get scratched up, you'll be sure to still have something that will work for you the next time you use it.
Pre-Filled Vape Cartridges
Vaporizers that use pre-filled cartridges are sold at dispensaries to include everything required to medicate. Usually put out by extract companies, these tanks will have the individualized strains listed with the amount of THC and CBD inside. For those that just need a gram to last them through the week of their vacation, getting a full cartridge at a shop is your ticket.
---
Affordable Vape Pens
SlickVapes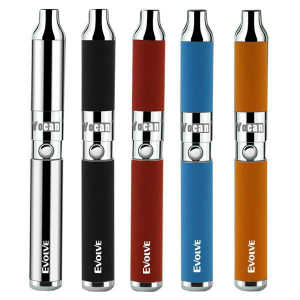 SlickVapes.com is a one stop shop for vaporizers, vape pens, vape tanks, vape accessories and everything else vape related. SlickVapes.com strives to be the best in the community by providing one of the largest assortments of affordably priced vaporizer options.
To Use With: Concentrate Cartridges, Concentrates, Flower, E-Juice
Price: $14.99 - $159.99
---
The Flight Vape Kit by Escape
The Flight Vape Kit by Escape is one of the most versatile and portable vaporizers on the market today. Now you may be asking yourself, how can a vape pen become more portable? Because, after all, isn't portability one of the main features of all vape pens?
While that may be true, Escape truly takes portability to a whole new level with their Flight Vape Kit. Featuring mobile battery charging and the best pound for pound battery, you'd have to physically try to get caught without a charge using this product. The Flight itself contains two self-charging Jet (this is what the actual pen is named) ports, making it easy to store and charge your batteries. The battery on the Flight is durable and equipped to charge the Jet batteries many times over without plugging in.
Another great feature of the Flight Vape Kit is its small, sleek profile and design. Measuring in at a smaller size than your smartphone, the Flight is the epitome of discretion. In fact, it looks more similar to a modern tech device than a vaporizer kit – the perfect cover for those stealth smoke seshes. And with the capacity to hold 700mg of distillate between two cartridges, there's no need to worry about running out of concentrate.
Additionally, Escape offers the complete collection of The Clear distillates fully loaded and fueled into their cartridges. That means you can get a refillable and reusable Jet pen filled with premium distillate for the price of a disposable pen, making the Jet pen a perfect option for tourists or locals alike!
You really can't go wrong with the Flight Vape Kit by Escape. Not only is it one of the most portable vaporizers we've seen to date, but it is also extremely durable and equipped with a lifetime warranty. So what are you waiting for? Try the Flight Vape Kit by Escape today and plan your next canna-adventure!
To Use With: Concentrate Cartridges (Distillate, CO2, CBD), E-Juice
Price: Jet Pen - $15, Filled Jet Pen (reusable) - $45, Escape Flight (2 Pens and Flight Case) - $99
---
Gigawax G4:20-C Vaporizer
The G4:20-C vaporizer from Gigawax out of Texas has the appearance of your average hookah pen, and the performance that everyone seeks in their daily driver. The two additional quartz EZ-Apply coil options are not only eco friendly but also produce a great vape cloud and make your hits taste amazing. The two day charge should last you while you're out on the town, but should you need to use it while it's charging, the battery is pass through, meaning you can use it while it's plugged in. This sleek buy comes with a one year warranty on both the atomizers and the pen.
To Use With: Wax, Shatter, Budder
Price: $50
---
G Pen Vaporizer (Dual Quartz)
The G Pen Vaporizer is a revolutionary product, allowing consumers a discreet, portable and effective way to consume concentrates. Dual quartz technology creates even vaporization and brings out the full flavor and essence of the concentrate. Simply press down the button and draw for your desired interval and in return receive a smooth, flavorful hit that every concentrate connoisseur is sure to love. The G Pen has an extremely effective battery and lasts as long as you'd like to keep on puffing.
To Use With: All concentrates
Price: $20 without G Pen battery ($25)
---
Ooze Duplex
Looking for a vape that's just as versatile as your lifestyle? Then you need to check out the Ooze Duplex vaporizer. Designed to handle a wide range of consumption options, the Duplex is well-equipped to operate both cartridges (ceramic glass oil tank) and coils (dual-quartz tank) and was voted best vaporizer at the Michigan High Times Cannabis Cup. The Duplex features a 1000 mAh adjustable battery with four temperature settings (3.4V, 3.6V, 3.8V, 4.0V) and a 15 second preheat mode option, allowing the consumer to accurately dial in their vaporization approach. Additionally the Duplex utilizes a unique, trigger-style delivery and magnetic connections, making for a one-of-a-kind hand-held vaping experience.
To Use With: Concentrates & Cartridges
Price: $49.99
---
KandyPens K-Stick Supreme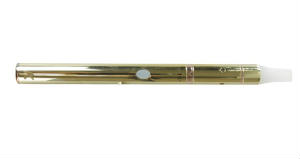 With a quartz rod atomizer and a sleek, sexy design, the KandyPens K-Stick Supreme Vaporizer is one of the best values you can find. Plus, its compact design is great for anyone looking to stay discreet and consume under the radar. Even more, the K-Stick Supreme offers variable voltage, a high-grade metal build and an ergonomically engineered mouthpiece designed to ensure a consistent vaping experience.
The K-Stick Supreme works well with waxes, live resin, shatter, distillate and pretty much any other concentrate that's not pure liquid. The load-your-own feature is ultra-convenient and eliminates the need to purchase cartridges from a dispensary. Pick one up today and see why many cannabis consumers love their KandyPens!
To Use With: Load-Your-Own concentrates like shatter, budder, wax, live resin, distillate, etc.
Price: $34.95
---
Higher Quality Portable Dab Pens
Source Orb 3
The Source Orb is a full metal beast of a vaporizer that comes with seven different atomizers to suit any situation you're in. The provided battery holds a great charge and allows you to change the temperature on the base, which fluctuates how hot of a hit you want to take. The quartz and ceramic donut terra atomizers have the most flavor out of any other around, and the intensity of the draw is very impressive. If you want something that will rival a rig, go with this product from Source Vapes.
To Use With: Wax, Shatter, Budder, Glycerin, Dry Herbs
Price: $80
---
Puffco
Brooklyn based company Puffco has created the largest ceramic chamber on the market, and it gives off a very smooth and full puff. The Puffco's atomizer doesn't use any glues, plastics, or fibers to pose a threat to your lungs or the integrity of the vape pen. Located on the battery, the three temperature settings will give you control over how quickly you burn through your pack. The sleek carrying case and thinner body makes this pen more portable than the Source Orb, and for $80, you can't really go wrong here.
To Use With: Wax, Shatter, Budder
Price: $80
Photo Credit: O.penVAPE